Judicial Board rules in Dobbs' favor in election fraud appeal
The Student Government Association Judicial Board ruled in favor of SGA presidential candidate Collier Dobbs after a student submitted three appeals contesting his victory in the spring 2023 general election. 
Aaron Glidden, the student that submitted the appeals, initially submitted the complaints to the Elections Board but appealed to the Judicial Board after the former decided in Dobbs' favor.  
Only two of the appeals were heard. The third one was submitted more than 24 hours after the Elections Board decided it, making it ineligible for review as per Article XVIII, Section G of the Elections Board Manual.
The Judicial Board said the appeals accused Dobbs of being "connected to voting coercion" of a member of an "unnamed Greek house." 
About the appeals 
The two appeals were in response to the Elections Board's ruling regarding a video showing an Alpha Phi sorority member referring to her sorority's endorsements. Glidden said he was planning to appeal the ruling when it was handed down.  
The text of the opinion states that Glidden accused Dobbs of violating Elections Manual Articles XII and XIII, which deal with campaign ethics and election fraud, respectively.  
The opinion also included an excerpt from the appellant's argument that informs the Judicial Board of the Elections Board's decision to interpret the complaint using sections XIV.A and XIV.B of the Elections Manual. 
The third appeal that was not heard had to do with a screenshot from an Alpha Delta Pi sorority GroupMe, pictured below.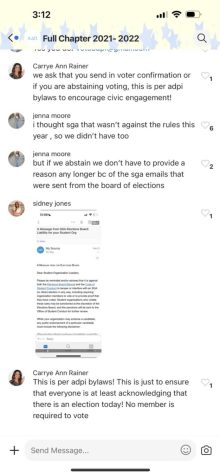 The Judicial Board's Opinion 
The Judicial Board said there was "no sufficient tie" between Alpha Phi's endorsement and Dobbs to violate either Article XII or Article XIII, saying that Dobbs was not aware of the endorsement. The board did not provide any further reasoning.  
The opinion also upheld the Elections Board's interpretation of Elections Manual sections XIV.A and XIV.B, saying that Dobbs will not receive any violation points. 
Glidden said that presidential candidate John Richardson received violation points for an unofficial endorsement that he had no knowledge about, so Dobbs should be held to the same standard. However, the Board noted that Richardson's violations were overturned in a retroactive ruling.