Elections Board to hear fraud complaint over Alpha Phi voting video
The Elections Board is set to hear a complaint for potential violations of election fraud and campaign ethics against President-elect Collier Dobbs after receiving a video of a member of the Alpha Phi sorority voting on Election Day in a manner that may violate the Elections Manual. 

Video provided by Aaron Glidden

The complaint was filed on March 1 by Aaron Glidden, a student who also filed a petition contesting the election on March 2. Glidden provided the video in question to the Board and The Crimson White. In his description of the video, he wrote,  

"On 02/28/2023, an Alpha Phi can be seen in a video voting according to her sorority's recommendations. This by itself is not, in of itself, necessarily a violation. However, the video also shows the same alpha phi voting for Collier Dobbs, the endorsed candidate, and screenshotting her confirmation of voting before sending it to someone with the caption 'got confirmation before 10:00 AM.' This is reason to believe that Alpha Phi is requiring members to prove that they voted. This is in clear violation of the elections manual code on campaign ethics and election fraud.  

"To be clear, a frame by frame, sharpened analysis of the footage reveals, in part, that Alpha Phi endorsed Collier and other machine affiliated candidates, and that the alpha phi depicted voted for those candidates before sending confirmation.  

"Moreover, she was doing this in class, detracting from her academic experience." 

The Crimson White's analysis of the video showed that the student in question was viewing a GroupMe for the Alpha Phi member class of 2021 while voting, and that a member of the GroupMe was encouraging students to vote for the following list of Senate candidates: Nathan Nislick for the College of Arts & Sciences; Chloe Pickle for the Culverhouse College of Business; Megan Bonhaus for the College of Communications and Information Sciences; Madison Wiltshire for the College of Education; Mia Ford for the College of Human Environmental Sciences; Brooke Garvey for the College of Nursing; Anne Lauren Ermert for the School of Social Work.  

The list of candidates was accompanied by the statement, "These candidates align best with the values of our chapter. Our chapter encourages civic engagement and involvement is [increasing opportunities] on campus. Being civically engaged on campus can diversify…personal experience."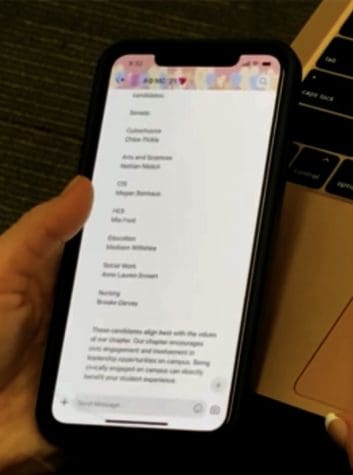 The CW was unable to identify who the student voted for on her laptop. However, following the completion of her vote, the student can be seen screenshotting her proof of voting and sending it to an unknown Gmail address with the subject line "Got confirmation before 10 am!" as Glidden states in his complaint. 
Glidden has filed 20 total complaints against the Dobbs campaign, only one of which has resulted in a violation against Dobbs with one point awarded. Dobbs' opponent, John Richardson, has accumulated 16 points, including a nine-point violation that is not listed in the Elections Manual or Constitution. An accumulation of 12 violation points or a conviction of a major violation grants the Elections Board the option to consider disqualification of a candidate but does not "automatically guarantee removal."  
When The Crimson White asked Glidden's reason for filing complaints against Dobbs, he said "I'm a student who values transparency and had a bit of time. I hope it was helpful, my only goal is to help enact real change." Glidden denied having any connection to SGA or candidates running for SGA. 
According to section XIII of the Elections Board Manual, election fraud is defined as "any willful act, deed, or conspiracy that violates the integrity of the electoral process before, during or after actual voting occurs."  
The manual further stipulates that election fraud can include but is not limited to "tampering or interfering with an election or a student's right to vote in the same, including, but not limited to, requiring someone to provide evidence of voting in an election."  
Last year, during the 2022 spring election cycle, the Elections Board dismissed a complaint pertaining to Pi Beta Phi sorority incentivizing voting in student elections. Several other sororities were found to be doing the same, with many chapters stipulating that voting was required per organization "bylaws." The Elections Board dismissed a similar complaint pertaining to Alpha Delta Pi this election cycle, also filed by Glidden on March 1.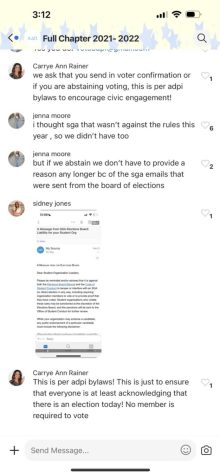 In its dismissal email to Glidden on March 3, the Board wrote "The board believes that per the evidence provided, no fraudulent actions or violations occurred. Based on the screenshots you provided, not only does the sorority's bylaws require active participation in elections while also allowing people to abstain from participating, but they mentioned a few times that voting was not required/ proof was not required."
The Elections Board is set to hold a hearing on the Alpha Phi video at 8:15 p.m. on Sunday night.