SGA election complaints show trend of Greeks filing against independents
The past Student Government Association election saw the most contested executive races since 2016 with four self-declared independent candidates. The Crimson White reviewed the election complaints filed against these four candidates and found every complaint was filed by a student in Greek life. 
The four independent candidates were John Richardson for president, Elizabeth Prophet for executive vice president, Xzarria Peterson for vice president for diversity, equity and inclusion, and Karina Collins for vice president for student affairs. According to documentation the four campaigns provided to The CW, the candidates received a combined total of 28 complaints filed by 14 students who were all members of an Alabama Interfraternity Council fraternity or an Alabama Panhellenic Association sorority. 
"I am a proud member of the Greek community, but I have never asked for or received backing from the Machine," Prophet said in a statement. "These sorts of elections interference tactics are exactly the kind of strategies the Machine employs to maintain power." 
The Machine, originally known as Theta Nu Epsilon, is a secret organization at the University that was founded in 1914. It has traditionally acted in the interests of the historically white APA and IFC organizations and controlled the SGA. In its heyday, it was known for harassment and intimidation tactics — the SGA was suspended between 1993 and 1996 due to allegations of harassment and assault made by an independent presidential candidate.  
The CW was unable to verify if the Machine was involved in filing the complaints against independent candidates this year, or if any of the individuals who filed complaints against independents were involved with the organization.  
The Machine was brought up in a question during the presidential debate between Richardson and Collier Dobbs. After the debate, Dobbs was asked about increasing transparency around the Machine's involvement in SGA. 
"I'm not very familiar with what you're talking about or any organization under that name," Dobbs said. 
The complainants, their Greek affiliations and the number of complaints they filed against each independent executive candidate are listed below.   
Further review of the documentation provided by independent campaigns revealed evidence that multiple individuals on this list may have been unofficially collaborating with each other or non-independent campaigns.   
Complainant

 

Affiliation

 

Richardson

 

Prophet

 

Peterson

 

Collins

 

Total

 

Robbie Khalil

 

Pi Kappa Phi

 

4

 

1

 

2

 

–

 

7

 

Alex Howard

 

Phi Mu

 

2

 

1

 

–

 

–

 

3

 

Luke Schroeder

 

Sigma Nu

 

2

 

1

 

 

 

3

 

Brock Imbornone

 

Pi Kappa Alpha

 

–

 

2

 

–

 

–

 

2

 

Carrye Anne Rainer

 

Alpha Delta Pi

 

–

 

2

 

–

 

–

 

2

 

Nathan Van Sickle

 

Sigma Tau Gamma

 

1

 

1

 

–

 

–

 

2

 

Mary Elizabeth Vincent

 

Delta Gamma

 

1

 

–

 

–

 

1

 

2

 

Natalie Conlon

 

Zeta Tau Alpha

 

–

 

–

 

–

 

1

 

1

 

Silas Duell

 

Lambda Chi Alpha

 

–

 

–

 

–

 

1

 

1

 

Gillette Harris

 

Chi Phi

 

–

 

1

 

–

 

–

 

1

 

Frank Reitano

 

Delta Chi

 

1

 

–

 

–

 

–

 

1

 

Hope Rider

 

Alpha Omicron Pi

 

1

 

–

 

–

 

–

 

1

 

Emily Teel

 

Alpha Omicron Pi

 

1

 

–

 

–

 

–

 

1

 

Olivia Yarbrough

 

Pi Beta Phi

 

–

 

1

 

–

 

–

 

1

 

TOTAL

 

 

13

 

10

 

2

 

3

 

28

 
Carrye Ann Rainer, the Dobbs campaign and screenshots 
Carrye Ann Rainer is responsible for filing two complaints against the Prophet campaign and at least three against former arts and sciences Senate candidate Jordan Suttles. 
On Feb. 21, Rainer filed a complaint against Prophet for not disclosing a purchase of ring pops. The complaint cited screenshots of Prophet's campaign GroupMe as evidence. Rainer was not a member of Prophet's campaign team, and it is unclear how she was able to obtain the screenshots. She also submitted a similar complaint concerning popsicles; both complaints were dismissed.  
Rainer previously submitted a complaint against Suttles before Feb. 13 for early campaigning and submitted two more complaints on Feb. 22 over an anonymous Instagram account that left disparaging comments on Collier Dobbs' and Josie Schmitt's Instagram posts. The Elections Board disqualified Suttles from the election after The CW published evidence that his former campaign manager was connected to the account.  
The Elections Board included the evidence that Rainer submitted with her complaints in its two rulings. The screenshots Rainer attached show that they were taken by individuals who were logged into Dobbs' and Schmitt's Instagram accounts since they capture comments from the notification sections of Instagram. The CW was unable to verify how Rainer obtained the screenshots.  
In The CW's investigation into the anonymous account, Rainer initially said she had submitted her complaint on behalf of the Dobbs campaign. However, the Dobbs campaign denied any knowledge of Rainer's actions, and Rainer retracted her claim following the Dobbs' campaign's statement.   
During the same investigation, Suttles and his former campaign manager provided The CW with screenshot evidence that Rainer was regularly viewing their campaign Instagram stories despite Rainer not following either of them on Instagram. Suttles previously told The CW he felt "targeted" by these complaints. 
On March 1, student Aaron Glidden filed a complaint of election fraud against Dobbs over a screenshot of the Alpha Delta Pi sorority's GroupMe in which Rainer can be seen reminding members to send their voting confirmation or abstention. The Elections Board dismissed this complaint, and the Judicial Board additionally dismissed Glidden's appeal of the decision for not being timely.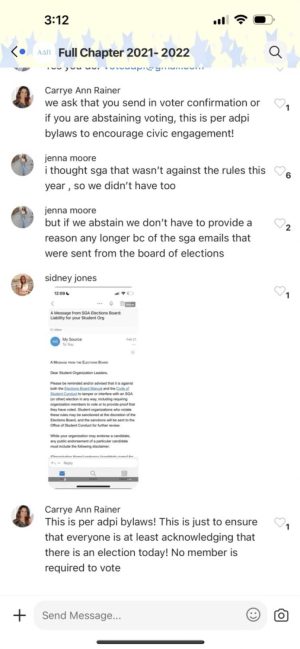 Emily Teel, Robbie Khalil, Peterson's DEI complaint and beyond 
Peterson was disqualified from the election following a complaint of election fraud and campaign ethics by Robbie Khalil over screenshots from her campaign GroupMe that generated controversy on the social media app Yik Yak.  
The Elections Board's ruling on the complaint showed that the image Khalil submitted with his complaint could not have been obtained from Yik Yak, as it was of a much higher resolution than what was posted on the anonymous message board. Additionally, only videos can be posted on Yik Yak, and the photo submitted by Khalil did not include text that is overlaid on all videos posted on Yik Yak, indicating that he did not obtain it by screenshotting the post online.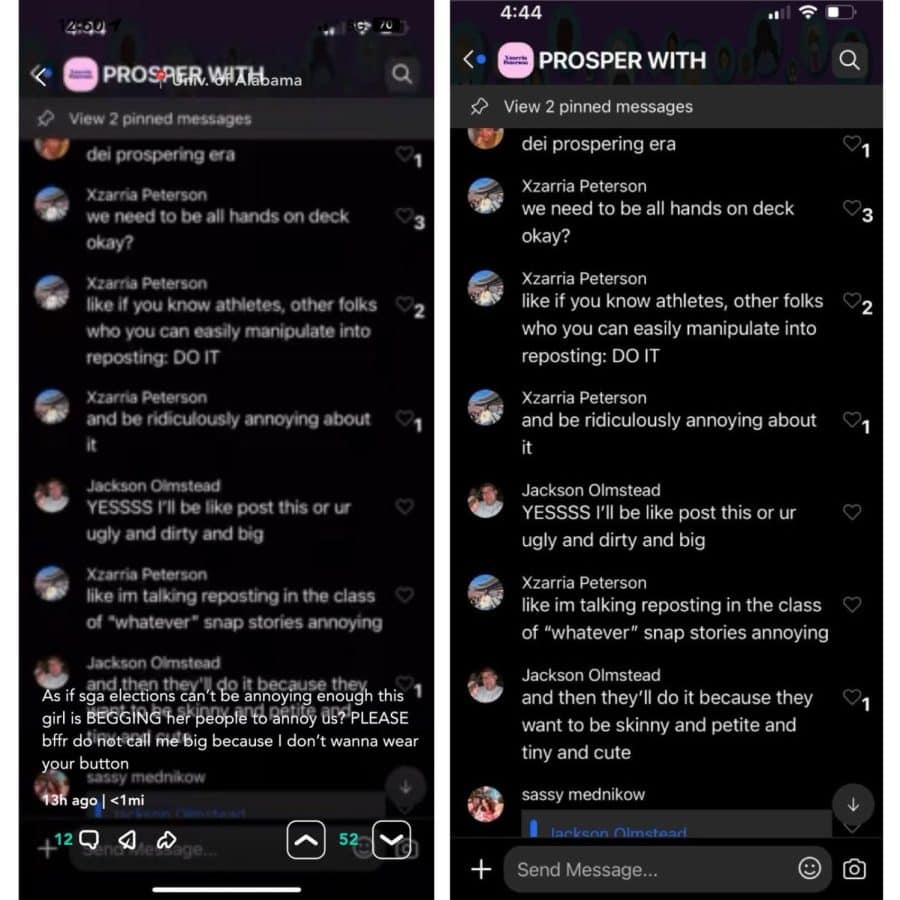 During The CW's investigation of this complaint, Peterson provided several screenshots of her GroupMe with timestamps that showed Emily Teel entered her GroupMe at 4:35 p.m. on Feb. 20, four minutes after the GroupMe was made public via Peterson's Instagram story. Khalil filed his complaint against Peterson later that day.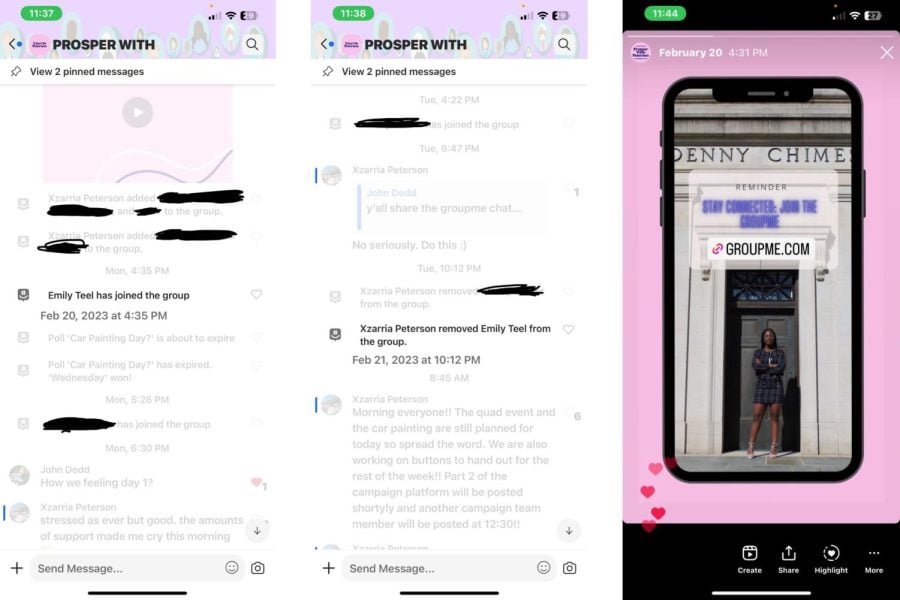 Teel filed a complaint herself against Richardson under Section XI.F. of the Elections Manual dealing with campaigning on campus, which Richardson was notified of on Feb. 27. In her complaint, Teel included two photos that were supposedly of members of Richardson's team campaigning outside of their permitted zones, and further claimed that Richardson's campaign had not obtained the required grounds use permit.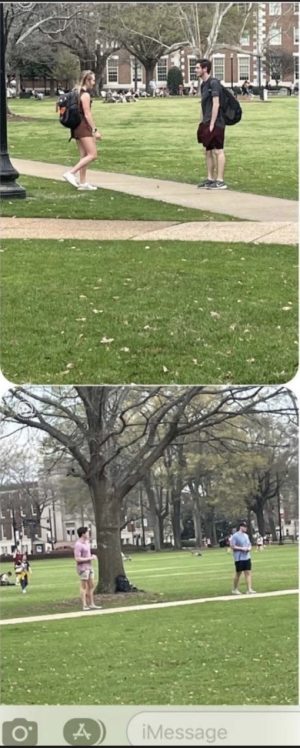 "The top picture in this iMessage screenshot is of two random people unaffiliated with the campaign (as far as I know)," Zach Johnson, Richardson's campaign manager, wrote in response to the Elections Board. He added that the second photo did not guarantee that people had been actively campaigning on Richardson's behalf, and that even if they were, the campaign had obtained a grounds use permit that allowed their actions.  
Additionally, Teel was mentioned in a complaint of election fraud against Dobbs filed by Glidden on March 1. Glidden alleged that a member of the Alpha Omicron Pi sorority had received phone calls from two members of her sorority on election day instructing her to vote for Dobbs before the polls closed, naming Teel as one of the members. Glidden did not name the person who had received the calls out of concern for her privacy, and the complaint was dismissed.  
Luke Schroeder and Hope Rider complain against Richardson 
Presidential candidate John Richardson received nine points for a major violation that does not exist in the Elections Manual after distributing business cards with QR codes that led to more campaign information, including a link to voting on myBama. The CW found that two separate complaints had been filed against Richardson over these business cards: one by Luke Schroeder, who is present in photos of Schmitt's campaign, and one by Hope Rider, who serves as chief of staff in Dobbs' vice president for external affairs cabinet. 
While the complaints were submitted separately, they both utilized the same photo of Richardson's business card as evidence.  
"The person who submitted this complaint submitted evidence from another existing complaint," said Johnson in his email response to the Elections Board over Rider's complaint. "The picture attached is the same one as our other QR complaint, just cropped. I've included both pictures here so you can see for yourselves." 
The specific rules around stand-alone websites and mobile polling stations that were cited in both complaints are not included in the Elections Manual. The CW found that these rules are listed in the candidate interest PowerPoint that is not publicly available and appears to have only been distributed to candidates and their campaign teams. 
The Crimson White contacted all 14 students who complained against independents twice prior to publication. None of them responded.