"The New Age Mike linebacker": Dylan Moses poised to deliver on immense potential
Dylan Moses wasn't used to being wrong. 
The recently transplanted, All-Everything linebacker had done an astounding amount of things right in his football career – enough to earn his first scholarship offer before he began the eighth grade. Enough to collect nine more offers from Power Five programs before he made his high school debut. Enough to make recruiting coordinators salivate with 23 tackles and a 65-yard touchdown run in his first full high school game. Enough to earn the title of "the nation's most high-profile freshman" from his local newspaper after making 158.5 tackles as a ninth-grader.
By his junior year of high school, he had even done enough to catch the attention of IMG Academy, a football factory that would have nine players earn 5-star recruiting status over the next four years.
So, in January 2016, Moses announced he was transferring from his hometown University Lab High, which sits on LSU's campus in Baton Rouge, and going to football school in Florida.
But, when spring practice at IMG began, Moses realized his days of dominating on brawn alone were over. For the first time in his life, his teammates were his equals: just as fast, just as strong and just as hungry to play the game at the highest level.
"I remember early on in one of the first practices we were running RPOs [run-pass options]," IMG Academy head coach Kevin Wright said. "And he was very frustrated because every time he stepped up to play the run, the ball is getting thrown behind his ear. And when he drops, the ball's being handed off. There was a learning curve there for him.
"As we got to the end of spring ball and really as we got into the season, you just saw his confidence grow and grow. He wasn't just out there playing. He was out there leading."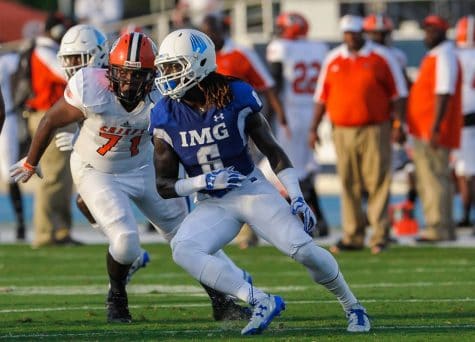 After finishing off a 116-tackle senior season, Moses was selected to participate in the Under Armour All-American Game. He ended up on Team Armour alongside future Alabama teammates Jerry Jeudy and Alex Leatherwood, and he would compete against his head coach, who was the offensive coordinator for the opposing Team Highlight.
Wright recalls a moment from the week of practice leading up to the game where he could clearly see Moses' evolution into a more complete and confident player.
"We're throwing RPOs, and Dylan is just stoning our quarterback and running back. He's almost tackling the mesh before we can even get the play off," Wright said. "[Offensive line coach George Hegamin] is yelling, 'There's no blitzing! No blitzing!' I stopped practice and I looked at George and I said, 'He's not blitzing. He's just reading it.'
"So you think about his progression: He had come from being really hesitant because he had to process early on to literally being able to process that quickly that we're not even able to get an RPO off a lot of times in practice."
Within two weeks, Moses, an 18-year-old early enrollee, was in Tuscaloosa, furiously cramming to learn Alabama's notoriously complex defense.
He said this spring that it took him 11 months to finally feel comfortable with the system.
"I could tell you plenty of times, just how stressed out and agitated I was with trying to learn the playbook," said Moses, now a junior. "To see the freshmen nowadays stressing over it and telling me how they're crying in their dorms and how they can't get the plays, I'm just like, 'Man, don't worry about it. You're going to get it sooner or later. Just with you wanting it so bad, you'll get it.' I was telling them I'm a proven testimony."
Due to a rash of injuries to the team's linebackers in 2017, Moses was forced into action as a true freshman. He made his first start against Mercer in November – still before his 11-month window was up – and recorded 11 tackles, 10 of which were solo. The next week he started on the road in the Iron Bowl and added 10 more. The rookie was making plays, and he was versatile, too, lining up both inside and outside the box and as an edge rusher.
A broken foot ended his freshman season before he could suit up in the College Football Playoff, but he had shown enough. Fans, coaches and teammates all knew: Dylan Moses was coming.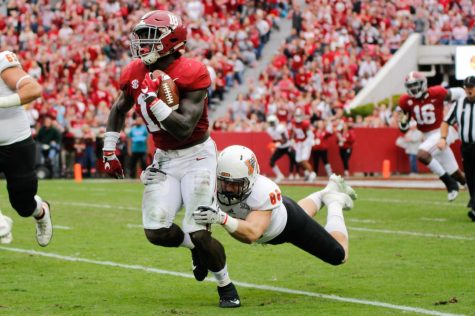 As a true sophomore Moses started all 15 games at "Will," or weak-side linebacker, leading the team in tackles and becoming a finalist for the Dick Butkus Award, given annually to college football's best linebacker.
Now, as Moses enters his junior year, he's become the guy on the Crimson Tide's defense after Mack Wilson left early for the NFL. Coach Nick Saban confirmed that Moses will succeed Wilson as the team's "Mike" linebacker this season, meaning he will take on additional leadership and communication responsibilities. 
The team has a long history of excellent inside linebackers under Saban, with five developing into first-round draft picks and a sixth earning SEC Defensive Player of the Year and unanimous All-American honors.
Moses said in the spring that he welcomes the challenge of delivering on the promise that branded him as Alabama's next great Mike linebacker.
"That was something me and Coach Saban spoke about whenever I first came into the program," Moses said. "When I was playing Will at the time I'd just sit back and watch [Wilson]. He'd make a play call and I'd have to echo it, so while I was sitting back, kind of being his shadow in a sense, I was really trying to watch him for whenever it's my time to become the Mike."
For all the talk of the transition Moses will face, the responsibilities of the Will and Mike linebackers are typically quite similar. Their assignments on a given play are not set in stone; rather, they depend on the linebackers' positions relative to their teammates. 
"There's not really any difference between playing Mike and Will, except one plays on the tight end side and one plays on the split end side," Saban said. "So I don't think [Moses] has anything to prove."
Moses acknowledges that he doesn't have the loud, bombastic personality often seen in Mike linebackers. That type of leadership doesn't come naturally to him, but coaches have been working with him to develop it.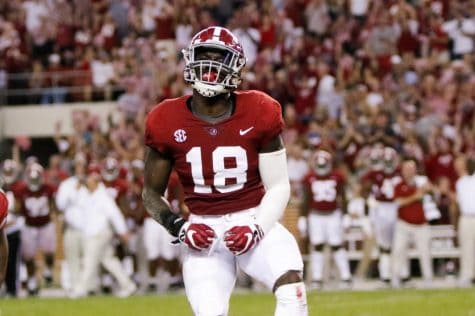 Wright remembers the first time Moses stood up to address the team at IMG and how easily he captured the attention of his teammates.
"Everybody's jaw about hit the ground," Wright said. "He's not a rah-rah guy, but he's all about business and I think the kids and coaches appreciate that because that's how great leaders do it."
Alabama quarterback Tua Tagovailoa added: "Dylan's not a person that talks as much, but him being able to come out of his comfort zone and his shell and being able to be open with guys and build relationships with guys on the defense… is really what earns his respect from all these guys to want to listen to him and what he has to say."
Moses said at SEC Media Days in July that he is "a little bit jealous" of Tua Tagovailoa's close relationship with his younger brother, freshman quarterback Taulia Tagovailoa, and wishes he had a younger brother on the team he could mentor in the same way. 
In the absence of a biological brother, younger teammates will have to do. While sophomore linebacker Ale Kaho was away from the team in the spring, Moses said he was trying to be a "big brother" to Kaho and help him in any way he could. 
According to 247Sports, Moses also helped freshman linebacker Christian Harris, another Baton Rouge native who spurned LSU in favor of Alabama, with handling harsh words from the hometown haters. From teaching Xs and Os to helping with workouts and time management, a veteran linebacker can impact his team for years after he leaves by imparting his wisdom on incoming freshmen.
"Right now we're out there without coaches, and the younger guys will come up and be like, 'What was this call?' or 'What was this check?'" said Arkansas senior linebacker De'Jon Harris, the SEC's second-leading tackler last year. "So I have to be that guy that knows everything."
For a Mike linebacker, knowing everything doesn't just mean knowing where he and his teammates should be on a given play. It can also mean knowing which adjustments to make if the opposing offense shifts, which plays it often runs out of certain formations, or which offensive players give subtle hints about the play they're about to run.
An offensive guard might align a few inches farther back than normal if he's about to pull, helping him get out in front of the running back. The weight an offensive lineman puts on his hands can indicate whether the play will be a run or a pass. 
A running back's distance from the line of scrimmage can indicate the type of run that's coming, especially if he is leaning slightly in one direction. Against smart linebackers, running backs need to make sure they "press their landmarks," Wright said, which means they are more patient with their cuts to hold the linebacker in place and give themselves more room to run.
The coach added that a savvy linebacker can even dictate offensive game-planning. For example, an offense might run fewer plays out of the shotgun formation and more from under center because it makes linebackers' sight lines muddier.
"[A smart linebacker] makes you work harder that Monday. On Monday we're going to sit there, we're going to watch film and we're going to scout the opponent," Kentucky guard Logan Stenberg said. "We're going to put together a plan, and if this linebacker is so good that we need to double team him, we're going to double team him. So it's really just getting a plan together to where we can combat that."
An athletically-gifted linebacker who struggles to grasp a complex playbook is less useful to a defense than a physically limited one who can retain large amounts of information. Saban showed his trust in Moses' mental Rolodex after the team's first spring scrimmage in late March. 
"We didn't have any [communication] issues at all. I don't know why we would," Saban said. "Dylan Moses has played a lot of football here."
Though experience and knowledge of the playbook can mask physical limitations, a lack of instincts as a Mike linebacker is nearly impossible to overcome.
No matter how quickly a player can get from sideline to sideline, how fluidly he can flip his hips in coverage or how many reps he's gotten in practice, it's still incredibly difficult to process all the information an offense presents at once. In fact, it's impossible to do so consciously.
"[Instinct means] being able to feel it and see your keys without even thinking about it, being able to react without putting thought into it," said Missouri senior linebacker Cale Garrett. "Just being able to feel what you're supposed to feel, the right thing, your initial steps and your initial keys and just being able to sort through traffic and find the ball."
Garrett went on to say that a player without natural instincts could develop them with enough repetitions, but Wright said hard work can only carry a player so far. Once it gets to that point, he either has it or he doesn't.
"Things are just natural. [A linebacker] is able to react as opposed to having to process," Wright said. "He's done it so much that it's reaction vs. processing. Some guys have that ability and some guys, no matter how many reps they've gotten, it's not natural to them." 
He used Moses' RPO-stopping prowess at the All-American Game as an example. He developed the ability to "feel" where the ball was going over thousands of repetitions, but the capacity to develop it so well is inherent.
Wright said instincts can apply to more than post-snap processing. Moses, he said, is also an instinctive tackler; he understands how to transfer his track speed and weight-room bulk to the football field. That's a skill not every linebacker has.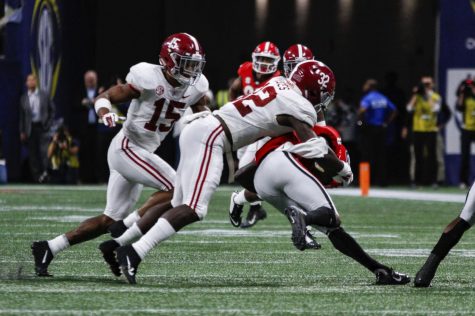 A Mike linebacker's on-field responsibilities are many. In a 40-second span that is often even shorter in the era of up-tempo offenses, he must look to the sideline, decipher his coaches' signals to translate them into the play call, keep his own assignment in mind while also helping teammates align properly, evaluate both the defensive front and the coverage and adjust them if he feels they are vulnerable, keep alert for shifts or hints by the offense, and quickly and clearly communicate any changes to his 10 teammates spaced around him in all directions.
And that's all before the ball is snapped. Hopefully.
After the snap, he has to read his keys to decide if the offense is rushing or passing. He can't be too hasty and over-commit, though, because he could leave the middle of the field open for a play-action pass or be out of position to make a run stop.
Alabama's defense is more complex than most because it adjusts its pass coverages based on the receivers' routes, an idea often called "pattern-match." For instance, if both receivers on the Mike's side run deep vertical routes, he has a different assignment than if one of them runs a crossing route in front of him. If his eyes are in the wrong place for even a split-second, that can be all the offense needs to convert a third-down pass or get a blocker out in front of a running back for a huge gain.
The margin for error is razor-thin.
Wright said Moses' biggest challenge will not be any one facet of the job, but juggling all of them within such a short timeframe. Moses, on the other hand, seemed unfazed when asked about the difficulties of the position.
"I've always been a natural at it, because ever since little league and high school I've always played Mike linebacker," Moses said. "So for me it's less to think about. All I got to do is make the calls and run wherever I got to run."
Saban and Florida coach Dan Mullen both said at SEC Media Days that playing defense is harder now than ever before, due to rules favoring the offense and the development of more innovative offensive systems.
Saban specifically mentioned RPOs as a new challenge facing defenses, also pointing out that just eight years after Alabama's defense led the country with 8.2 points allowed per game, twice that average is now considered elite.
Mullen, whose work developing Alex Smith, Tim Tebow and Dak Prescott earned him a reputation as a "quarterback whisperer," said football has recently undergone a philosophical shift to exploit favorable matchups.
"It's something that we started to really work on about 15 years ago when they [adjusted] the offenses to create advantageous matchups out there on the field – how to work to get one of our better players on one of your weaker players," Mullen said. "Because of that, I think defenses have done a great job throughout the years of trying to adjust to that. If you're creating this matchup over here offensively, how do we defend and not allow you to create a huge advantageous matchup on you? It's just part of the chess game back and forth."
Wright said he's seen teams use that exact formula against Alabama because they know their offenses aren't as athletic as the Crimson Tide's defense. It often involves forcing inside linebackers outside the box, matched up on athletic tight ends or shifty running backs.
That approach worked a few times before Saban caved and implemented a more modern and agile defensive scheme – in which Wright says Moses is "a tremendous fit."
"When the Mike linebacker's athletic, that makes it a whole lot more difficult to find somebody to pick on," Wright said. "[Moses] is big and strong enough that he can play the run in the box as a Mike linebacker, but he's also fast enough and quick enough that if people try and formation them, he can play on the edge a little bit.
"I think the experience that he's had from a football IQ standpoint, and then add his physical abilities on top of it, I think that he is the New Age Mike linebacker."