Senator looks to clear air in bars, restaurants, public places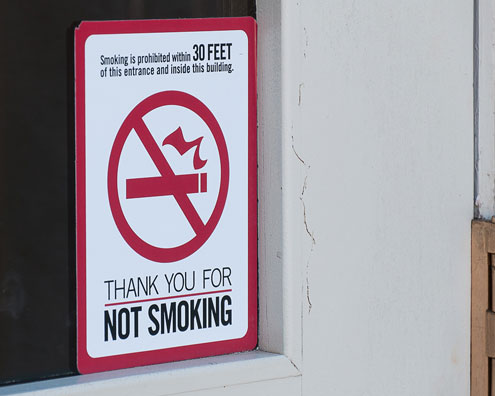 State Sen. Vivian Davis Figures said Tuesday, Jan. 10, she will introduce legislation and a constitutional amendment to ban smoking in public places, including bars and restaurants but not private clubs, according to a Tuscaloosa News article.
Figures, D-Mobile, has proposed various anti-smoking legislation in her 13 years in the State Senate. Now she wants to introduce a constitutional amendment to curtail exposure to secondhand smoke.
The state of Alabama does not have a statewide smoking ban. Instead, the Alabama Clean Indoor Air Act, passed in 2003 with the help of Figures, generally forbids smoking in public places and public meetings unless they are designated as smoking areas, enclosed and well-ventilated. The Act bans smoking in locations such as hospitals, schools, most retail establishments, elevators, buses, taxis, restrooms and polling places.
Figures' constitutional amendment would have to pass the State Legislature and then go to a statewide vote for the legislation to take effect. The 2012 legislative session begins Feb. 7.
She said a constitutional amendment would give voters a direct voice in the matter.
"If legislators don't want to throw this on the people, let the people decide," Figures said in the Tuscaloosa News article.
Figures told the Tuscaloosa News she originally considered advocating a smoking ban in private clubs such as Elks and Moose Lodges but decided to constrain the constitutional amendment to public places.
Meanwhile, the Tobacco Free Alabama coalition is pushing for a statewide smoking prohibition in public buildings and workplaces. The exemption Figures makes for private clubs runs counter to the comprehensive legislation the coalition is seeking, said Ginny Campbell, legislative director of the Alabama chapter of the American Cancer Society, a section of the coalition.
"We believe all workers should be able to work in a smoke-free environment," she said. "Senator Figures is a very strong sponsor but she's more willing to compromise than we are."
Campbell said the coalition wants to pause any legislative action to curtail secondhand smoke until support for a comprehensive anti-smoking bill can be lined up.
"If we could take a step back and not try to push this bill until we get all of the needed support, we could create something really strong that could protect all workers," she said.
The coalition is currently focusing on passing strong anti-smoking ordinances in cities such as Birmingham and Mobile, where the coalition has been successful in having such ordinances take effect, she said.
One reason for the coalition's push for a comprehensive anti-smoking bill stems from the belief that smoking bans shape individual preferences against smoking. The number of smokers in society can be reduced if the government adopts an attitude of disapproval for the effects of secondhand smoke on the health of its non-smoking citizens, she said.
However, some legal researchers suggest the opposite consequence can follow from the state's manipulation of social norms concerning smoking.
Thomas Lambert, assistant professor of law at the University of Missouri Columbia School of Law, wrote in a 2006 article that intrusive smoking bans might increase the incidence of lighting up.
"A large percentage of smokers acquire the habit at a young age, and they frequently do so because smoking is 'cool,'" he wrote. "Smoking is cool, of course, because it is rebellious. The harder anti-smoking forces work to coerce people into quitting smoking, and the more they engage the government and other establishment institutions in their efforts, the more rebellious — and thus the 'cooler' —smoking becomes."