Patterson empowers women through athletics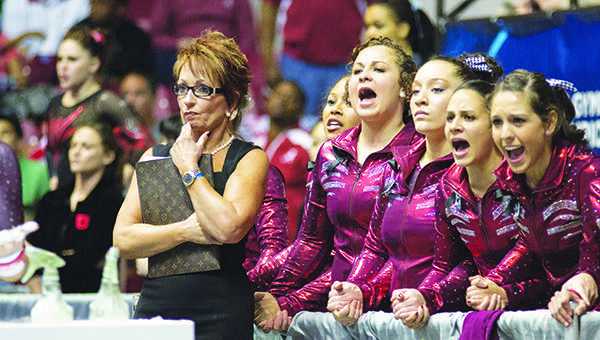 As Sarah Patterson watched fireworks light up the night sky behind the outfield wall in Rhoads Stadium, the memories rushed back to her like a flood.
She was one of 20 women being honored as trailblazers at The University of Alabama's jubilee dinner, which was the premiere event in its celebration of 125 Years of Women on campus.
The venue couldn't have been any more perfect for Patterson. It was at the same stadium in which she watched her daughter, Jordan, compete for Alabama's softball team during its national championship season in 2012.
"For me, because it was held there, it brought back a lot of memories because my youngest daughter, both of my daughters grew up watching us build programs for women's sports and empowering women," Patterson said.
The jubilee dinner was the final link in a circle that started in 1978, when Paul "Bear" Bryant – the University's athletic director at the time – hired Patterson to be the fifth head coach of Alabama's gymnastics team. Patterson was only 23 years old and had just graduated from Slippery Rock State College. Her starting salary was $5,000, and what she didn't know when she took the job was that Bryant had plans to cut the program after her first season.
But then Patterson accomplished something that had never been done in the history of the young program: She led the team to a winning season.
Recognizing something in the rookie coach, Bryant decided not to eliminate the program. Instead, he bumped Patterson's salary up to $12,000 and armed her with several new scholarships.
Patterson utilized the scholarships well, bringing in gymnasts that would help Alabama qualify for its first national championships four years later. Over the next three decades, Patterson transformed the Crimson Tide gymnastics program into a national powerhouse, guiding it to national championships 32 times. In 1988, gymnastics became the first women's sport at Alabama to win a national championship. It was the first of six national titles the program won under Patterson.
Putting people in the stands
Although the victories began to pile up for Alabama gymnastics, Patterson wasn't satisfied with competing in a nearly empty Foster Auditorium. She envisioned sold-out arenas, steady newspaper coverage and high visibility for her gymnasts.
Patterson hoped to swing the spotlight toward her burgeoning program.
She put into practice words of advice given to her by legendary Tennessee women's basketball coach Pat Summit.
"She told me that if I wasn't as willing to market and promote as I was to coach and recruit, that I would compete in front of no one," Patterson said. "I took that to heart. I spent half my time marketing and promoting our program."
Patterson gathered up her gymnasts and took them on trips to the mall, where they would make sure every car in the parking lot was dotted with a flyer announcing the time and place for their next home meet. But she didn't stop there. Along with circulating flyers, Patterson called into sports radio talk shows, taking to the airwaves to raise awareness.
"I would be on hold for 20 minutes, and they'd think I'd want to talk about football or basketball, and when I'd get on I'd have five free minutes of advertising and I never stopped talking," Patterson said. "I became a good friend of Paul Finebaum and he, earlier in his career, he helped us build our fan base by allowing me to be on his show."
Eventually Alabama gymnastics moved from Foster Auditorium to the much larger Coleman Coliseum. There was one caveat to the move, however. A large, black curtain cut out a portion of the arena. It wasn't long before it had to be removed in order to accommodate a growing fan base.
Then, in a home meet against Georgia in 1997, even Coleman's over-15,000 seats proved insufficient. The Crimson Tide faced the Gymdogs in front of a sold-out crowd, the largest to ever watch a women's sporting event in the state of Alabama.
Many of the gymnasts whom Patterson originally brought in to help kick start the program came back for the meet, including Barbara Mack Harding, who won SEC and regional titles during her career at Alabama in the early 1980s.
"We were thrilled and excited and cried," Harding said. "It was exciting, but I don't think we were surprised. Sarah was such a leader in women's sports in terms of showing what a program in women's collegiate athletics can be."
What was once a vision at the start of Patterson's time at Alabama had turned into a reality. The countless hours of promoting her team had paid off.
"The highlight of my career was helping these young women succeed in their lives and being successful in their careers and then building a foundation for women's sports that set a record in our state for 15,000 coming to a women's sporting event," Patterson said.
A rising tide lifts all boats
Her team was winning championships. The void of a missing fan base was being filled at a steady clip, yet Patterson still wasn't content. She didn't want to stop at improving gymnastics; she wanted to empower and advance Alabama women's athletics as a whole.
From 1985 to 1996, Patterson served as Alabama's senior women's administrator. During that time, she worked with women's basketball and volleyball, helped usher in women's softball and continued to capture championships in gymnastics.
Even after she stepped down from the administrator position, Patterson continued to support women's athletics. She witnessed the rise of the softball team that her daughter would one day play on. They went from playing at a nearby city park to competing in the $2.2 million Rhoads Stadium.
Like gymnastics, the softball program also claimed a national title.
"One of my memories was coming back from the College World Series after my daughter and Patrick Murphy's team had won it in 2012, and we went out to the Tuscaloosa Airport and met their plane, and it was a chartered flight coming in," Patterson said. "It wasn't just how it changed for gymnastics over the 36 years of my career. We changed it in a lot of areas."
Upholding the legacy
After 36 years at the helm, Patterson made the difficult decision to step down as Alabama's coach in 2014 in order to have dual knee replacement surgeries. Her husband, David Patterson – who had served as her associate head coach and as a volunteer assistant – also retired.
Before stepping away, Patterson worked with then-Athletic Director Bill Battle to help ease the transition. She wanted to ensure that the program she and her husband had built from the ground up would carry on successfully.
When she met with her team to break the news, Patterson was able to introduce Dana Duckworth as the new head coach. The transition, Patterson said, was seamless. Duckworth was ingrained in the Crimson Tide's winning culture, having competed at Alabama as a member of the 1991 national championship squad. Duckworth also worked as an assistant on Patterson's staff for 15 years.
"I credit Bill Battle for allowing it to happen that way," Patterson said. "There was no question in our athletes' minds, because everyone knew exactly what was going to happen. Dana had been a part of the championship tradition."
Duckworth has worked to maintain the standard set by Patterson in the gym, but more importantly, she has strived to preserve Patterson's legacy of empowering women and supporting the local community. She's put her own spin on it, of course.
"A true legacy to me is something that when you're gone, it still stands strong," Duckworth said. "I feel like Pat Summit was one of those women, Sarah Patterson was one of those women, and I want to be one of those women. At the same time, what I've learned is that you have to be you in the process. I can't try to be Sarah, I can't try to be Pat Summit, I have to be Dana."
Alabama's Power of Pink meet, which was started by Patterson to help raise funds and awareness for breast cancer, is still one of the most anticipated and well-attended competitions on the athletic calendar. The gymnastics team continues to host a party every December for children enrolled at the Tuscaloosa RISE Center. Duckworth even founded her own community outreach organization, ReadBAMARead, which is dedicated to replacing books in local schools that were lost in the 2011 tornado.
Duckworth sees it as her responsibility to keep adding to what Sarah and David Patterson established.
"They got to the top of this mountain, and they put this flag in the top," Duckworth said. "Then they handed it over to the next generation. What I feel like I look at it as, I'm at the top of the mountain. I'm at a program that is established and success. There's two ways to go. You set your sights on the next peak and you go for it."