Manderson partners with Georgia Pacific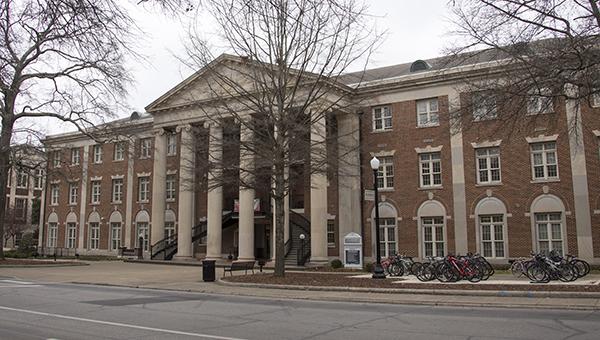 The Manderson Graduate School of Business has relationships with many businesses, but each year one stands apart. The school annually gives the Partner of the Year award to recognize a company that has supported the school in various ways, like sending guest speakers, participating in school events, conducting mock interviews and hiring students for internships or full time positions.
Georgia Pacific, an Atlanta company that manufactures and distributes paper products, is this year's partner of the year.
"Georgia Pacific was a company that was very valuable to us over the past year in terms of what they were able to provide in the way of internship opportunities for students, project experiences for students and also full time jobs," said Brian Gray, associate dean of the Manderson Graduate School of Business. "We see them as a valuable corporate partner."
Gray said the graduate school is always looking for good job placements for students and Georgia Pacific tries to hire the best new employees it can find. He said their relationship with the company is mutually beneficial.
"We're just delighted to have Georgia Pacific as a part of the Alabama family," said J. Michael Hardin, dean of the Culverhouse College of Commerce. "I'm very honored that they have spent so much time with us, that they have seen the value in our students to go to the lengths that they have gone and given the opportunities to students. It's a real honor for them to have invested so much in us."
Scott Harper, director of procurement at Georgia Pacific, said last year Georgia Pacific hired four UA graduates in full-time positions and four for internships. He said the company recruits both graduate and undergraduate students.
"We're partnered with Manderson to provide us with future leaders," he said. "We've focused on developing that partnership with the faculty and with the students and we're proud to be recognized because it's about that core, building that foundation long-term with the students so they can become candidates to be future leaders in our organization."
Harper said the partnership between the University and Georgia Pacific goes beyond the classroom. Georgia Pacific paper products are used in academic buildings like Bidgood Hall, residences including the new Presidential Village and even Bryant-Denny Stadium.
Manderson partners with several corporations throughout the year, Gray said. Previous winners of the Partner of the Year award include Regions Financial Corporation, Procter and Gamble, BBVA Compass and Cigna-HealthSpring.