Alabama baseball rides a productive start from McNairy for second straight win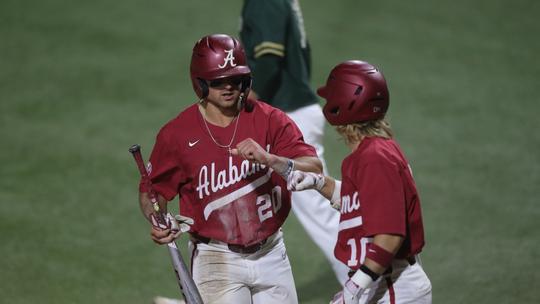 It's not easy to rebound from a brutal outing and twirl a gem the next time around, but that's exactly what Alabama right-hander Jacob McNairy did Tuesday. After a disastrous start against Columbia University on Saturday that saw him allowing seven runs in 3.1 innings, he was near untouchable against the University of Alabama at Birmingham (5-14) once he settled in.  
At first it appeared McNairy was in for another shaky start, yielding four hits and a run in the first inning. It was pure dominance from that point onward, with McNairy retiring the next 13 batters he faced to earn his third win of the season in a 13-2 victory for the Crimson Tide.  
"[McNairy] is at his best when he's sinking his fastball at the bottom of the strike zone, and early on he was just up and out over the plate," Alabama head coach Brad Bohannon said. "He started executing pitches better and he's really good when he's at 90-91 [miles per hour] at the bottom-third of the zone."  
The graduate student had terrific command, firing 44 of his 66 pitches for strikes while not allowing a walk. Three of his five starts on the year have resulted in no free passes, and he's issued only four walks total this season. 
Alabama (18-4) needed every bit of McNairy's performance with the lineup continuing its recent slump early on. The Crimson Tide stranded seven runners through the first five innings, failing to capitalize on its many scoring opportunities. All in all, Alabama was just 1-for-10 with runners in scoring position through the first six frames, with that lone hit coming on a three-run homer by first baseman Drew Williamson to break things open in the sixth. 
"I think we came out a little slow. A little bit of an adjustment going from being at Florida to facing UAB tonight," Williamson said. "You just got to go back to what works, you got to stay aggressive, try to get in good hitters counts and put good swings on the ball and that's what I felt we did better [in] the back half of the game."  
While the bulk of the offense was carried by right fielder Andrew Pinckney and third baseman Colby Shelton at the beginning of the year, it has been a struggle for the duo as of late. After going 0-for-2 against the Blazers, Pinckney is now hitting just .139 and slugging .222 in his last 11 games. Shelton recorded a pair of hits Tuesday but entered the contest hitting just .226 in his previous nine. The Crimson Tide will need them to pick it up with SEC play underway.  
"Andrew is a little bit off right now. I think just mechanically, he's a little bit out of whack and he's working through some things," Bohannon said. "I'm not sure we can be the team we want to be without him being a huge part of it."  
Next up is the first of three games against No. 22 Kentucky on Friday. First pitch is set for 6 p.m. on SEC Network+.