Softball wins seventh straight game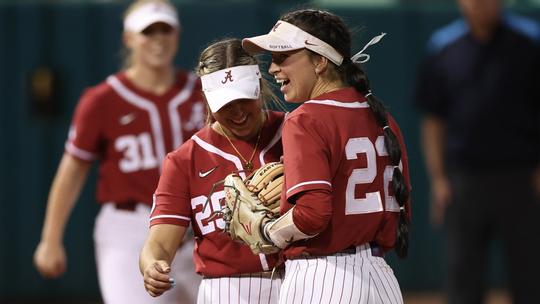 A 13-game home stretch for No. 9 Alabama softball has finally come to a close. Playing two weekends in a row with five games each, along with a couple weekday games, the Crimson Tide have certainly spent plenty of time in front of the home crowd and have put on a show every time. 
Adding to the hot start for the season, Alabama (17-3) defeated Western Michigan University (5-8) on Tuesday night and tallied another win to its seven-game win streak.  
Alabama got out to an early lead, scoring two runs in the first inning. Graduate student Ashley Prange started things off with an RBI single that brought home freshman Kenleigh Cahalan for the first run on the board. Following her was Ally Shipman who hit a sacrifice fly out to right field to bring home Prange.  
However, after the early scoring output from the Crimson Tide, neither team could get the bats going again for a while as both teams combined for only four hits through the sixth inning.  
It was a pitcher's duel all night long with neither team willing to give the other a chance to get on base. Coming off her previous outing being a no-hitter, Jaala Torrence started in the circle for the Crimson Tide and did not give up a hit until the sixth inning when junior Haley Boxwell put her Broncos on the board by drilling a home run out to left field to make the score 2-1. 
"I felt really good. The defense did amazing, they had my back and the offense did our thing. It was a really good game," Torrence said. "Having the idea that I'm going to win every inning and the awesome defense behind me has helped me and hyped me up." 
Patrick Murphy's team needed a response to the home run, and they received their wish with junior Emma Broadfoot hitting a double into right field to bring up senior Lauren Esman to the plate. Esman ripped a single back up the middle to bring home Broadfoot and extend the Alabama lead to 3-1 going into the seventh and final inning.  
"It's a tough thing to do to pinch hit. You're sitting there cold all game and you hit [batting practice] at 4:30 and now it's eight o'clock so you haven't swung a bat in how long?" head coach Patrick Murphy said. "To get off the bench, pick up a bat, and get an RBI is pretty dang cool and kudos to [Esman] for doing it." 
To close out the game for the Crimson Tide was Montana Fouts who came off of a third-career perfect game performance over the weekend. Fouts did exactly what she needed to do and struck out Western Michigan's final three batters to secure the victory. 
Alabama will travel on the road for its next matchup against the University of Alabama at Birmingham Blazers in Birmingham on Wednesday, March 8, at 6 p.m. CT. 
Questions or comments? Email Blake Byler (Sports Editor) at [email protected]