Men's tennis goes 0-3 at Blue Gray National Tennis Classic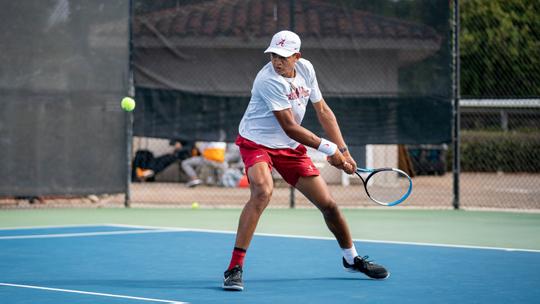 The Alabama men's tennis team closed out its two-day Blue Gray National Tennis Classic with a dropped pair of 4-3 decisions against The University of Nebraska and Texas Tech University.  
Alabama also faced Oklahoma on Friday but the match was delayed during the first round of competition. The second round of competition was split between Friday and Saturday; the doubles played Friday and singles concluded on Saturday, ultimately resulting in a 4-3 defeat for the Crimson Tide 
After the doubles matches on Friday, the Crimson Tide concluded its match against the Cornhuskers in the final court of play. On Saturday, Alabama played singles against Texas Tech and lost 4-3.  
Alabama vs Oklahoma, Friday and Saturday 
Sophomore Enzo Aguiard got Alabama rolling early by taking a 6-1, 6-0 victory. 
The Sooners later tied the score with a victory on court three, but back-to-back wins from sophomore Roan Jones and freshman Yair Sarouk gave the Crimson Tide a 3-1 lead.  
It was all Oklahoma from there, recording three straight doubles wins and ultimately clinching the match.
Alabama vs Nebraska, Friday 
Nebraska came out the day on fire, snagging a 2-0 lead early in the evening, but Alabama picked up their its win from Aguiard, 6-4, 6-1.  
Freshman Matias Ponce de Leon also picked up a 6-3, 6-4 victory for Alabama and tied the score up. 
The Crimson Tide took the lead with a 6-2, 7-6 win on court five, but it was all Cornhuskers from there as they won on courts six and seven to seal the win. 
Alabama vs Texas Tech, Saturday 
Alabama opened the match with a doubles victory from Aguiard and sophomore Filip Planinsek at 6-2 on court one.  
Sophomore German Samofalov and Sarouk recorded a victory in doubles for the Crimson Tide as well at 6-2. 
In singles, Jones captured a 2-0 lead for Alabama 6-3, 6-2 win on court four. 
From there it was all Texas Tech, winning three straight matches to secure the victory for the Red Raiders. 
Alabama opens SEC play on March 2, when they will face Georgia at Alabama Tennis Stadium at 4 p.m. C.T.  
Efforts to contact UA Athletics for comment on this story were unsuccessful.
Questions or comments? Email Blake Byler (Sports Editor) at [email protected]