Strip, campus restaurants strive for high health scores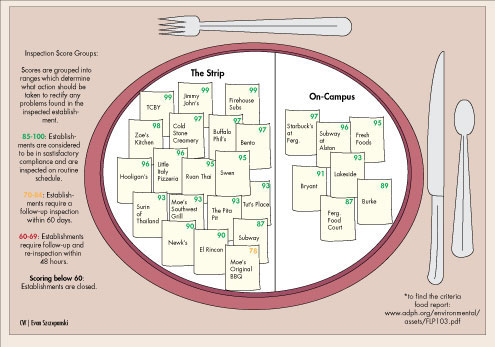 As a food establishment, each campus dining hall is required by state law to display, in a conspicuous location, its most recent health inspection report. The report, usually framed, looks like a fax sheet with a large red number scrawled on it, ideally ranging in the 90s.
In December of last semester, Lakeside dining hall scored an 84, one point below the acceptable 85-100 range for food establishments. When the score of the report dips below 85, a follow-up inspection to examine the sanitation of the food establishment will take place within 60 days.
This month found Lakeside with a better number on its report than in December – a 93. But, the same critical violation that led to its low score in December reappeared on the report scored this January.
Critical violations on a health inspection report are weighted as 4-5 points apiece, whereas normal violations, such as neglecting to clean the floors and walls, are weighted as 1-2 points apiece.
So, what was Lakeside's critical violation?
According to the Tuscaloosa County health department's health inspection reports for Lakeside in December and January, cold food items, specifically barbecue and gyros, were too warm during their holding period before being served to students.
In fact, every campus dining hall except Fresh Foods in the Ferguson Center committed the same critical violation.
Cold food items have to be held at or below 41 degrees Fahrenheit, except during necessary preparation, and even then, the food cannot exceed 70 degrees Fahrenheit, according to ServSafe, a manual of sanitation guidelines produced by the National Restaurant Association.
"Food that is being held for service is at risk for time-temperature abuse and cross-contamination," according to the manual. "If your operation holds food, you must make policies that reduce these risks.
"This will prevent pathogens such as Staphylococcus aureus from growing to unsafe levels."
Jeff Chism, the Tuscaloosa County health department inspector for the University's dining halls, found Lakeside's December barbecue in cold holding at 45 degrees Fahrenheit and its January gyros in cold holding at 70 degrees Fahrenheit, according to the health inspection reports he completed for each month.
In November, Chism found Burke dining hall with hummus in cold holding at 77 degrees Fahrenheit and beef in cold holding at 55 degrees Fahrenheit, again according to Chism's report for that month.
In December, Bryant dining hall had pasta in cold holding at 66 degrees Fahrenheit and mushrooms in cold holding at 51 degrees Fahrenheit.
When asked about the health ratings of campus dining halls, Kelsey Faust, marketing and sustainability manager for Bama Dining, said in an emailed statement, "I can tell you that serving safe, nutritious and quality food is our top priority. We have ongoing, rigorous training and quality assurance processes to ensure we meet very high standards. Bama Dining works with our University partners to immediately address and correct any issues noted in health inspections."