Dana Duckworth continues championship legacy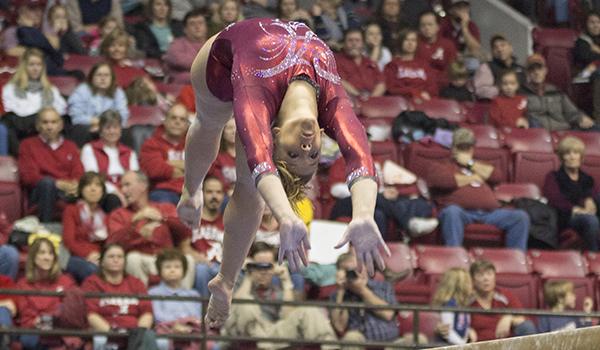 Alabama gymnastics coach Dana Duckworth doesn't like 
to lose.
After falling off the balance beam in the 1991 NCAA Championships, Duckworth learned her lesson.
"She didn't win the balance beam," said former Alabama coach Sarah Patterson, who coached the Crimson Tide gymnastics team for 36 years and coached Duckworth during her collegiate days. "She did a perfect routine, and in that perfect routine, right at the end of it, she knew it was perfect and she got ahead of herself and missed her dismount. Well, Dana never let that happen again. She went on to win two national championships on balance beam."
When describing the personality of the first-year head coach, the word energetic has always been a staple.
"Dana is probably one of the most personable and energetic people that I have ever met," Patterson said. "I think as she became more confident and comfortable as she grew as a person during her time here at the University, I think those attributes and great qualities 
flourished [even] more."
When she was named the head coach of the program after Patterson's retirement in July, Duckworth was no stranger to the program. She spent four years with the Crimson Tide as a gymnast, 10 years as a volunteer coach and six years as associate head coach.
Originally from Michigan, talent drew Patterson to the young athlete, but her family values and desire to be part of a close-knit program also made her the perfect fit for the Alabama program.
"I think Dana was a tremendous athlete, but what we looked for was, she was someone who wanted to be a part of a family program," Patterson said.
Duckworth returned to Alabama to pursue an MBA with NCAA post-graduate scholarship and began to volunteer with the program. After 10 years, she became involved with the 
program on a new level.
Travel became increasingly difficult for former associate head coach, David Patterson, and the Patterson couple decided it would be best for the team if Duckworth took the role of associate.
"I can think of no better person who has won championship, won individual championships and helped build our program to be around our student athletes as both an example and mentor to them," While Patterson said. "When people think, 'Well, this is her first year as head coach,' yes, it is, but the amount of time that she has spent with the program, she has been part of our championship legacy for many years."
In her first year as head coach, Duckworth continued to build upon the legacy of her predecessors. She led the team to its second consecutive SEC Championship, its ninth as a program. In the process, Duckworth became the first head coach to win a conference title in their inaugural season. She followed that conference title with a regional one, the program's 30th. This weekend, Duckworth and her team will travel to Fort Worth, Texas, to compete for a national title.
When a change in leadership was announced, senior Kaitlyn Clark said she had no doubt Duckworth would excel in her new position. Throughout the transition, Clark said, Duckworth was an open communicator 
and transparent.
"A lot of people thought that when you change a head coach, the team wasn't going to do very well," Clark said. "Because we had that really good communication and that feedback from each other, this team hasn't skipped a beat this year."
Elite competition is no stranger for Duckworth, and she strives to create those same expectations within her athletes.
"My expectations of excellence are engrained in who I am and who I've been as an athlete, as a coach, being under Sarah and David, and who we are as a team," Duckworth said. "The idea of going to a national championship and being regional champs, and having a chance to be SEC champs and compete to be NCAA champions, I believe in it. I believe in the team. I believe that we can do it."