Alabama looking for receivers to step up in 2015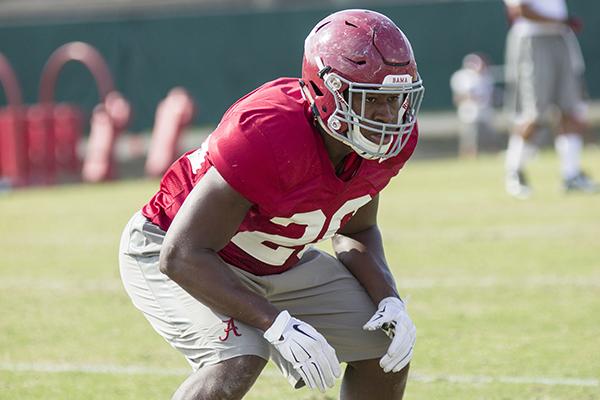 In addition to losing Cooper, the Crimson Tide lost their second and third leading wide receivers, DeAndrew White and Christion Jones, 
to graduation.
Alabama's top returning wide receiver, junior Chris Black, only registered 188 receiving yards last year and has just 267 career receiving yards. Alabama will also rely on redshirt freshman Derek Kief, sophomores Robert Foster and ArDarius Stewart and junior 
Raheem Falkins.
"To me, it is a special group," Black said. "It is an older group. A lot of the guys in the receiving room now, we all have kind of been waiting on our chance and here we have it."
Stewart played well in limited action as a freshman last year, registering 12 
receptions for 149 yards.
"He is definitely playing fast," Black said. "I think it was mental with him but now he's got everything down pat and he can go ahead and play fast…He's a fast guy, he is physical, he really goes up and high points the ball."
Another player who could lineup at wide receiver at times this year is running back Kenyan Drake. Drake has been working with the receivers for parts of multiple spring practices and lined up at receiver before his injury last year. In last year's game against Florida, he caught an 87-yard touchdown pass after lining up as a wide receiver.
"Me in the backfield and him at receiver, you really wouldn't know what's coming or who is getting the ball," running back Derrick Henry said. "Kenyan has great hands, and I try to do a little bit out of the 
backfield, too. But I just think that's great to 
have us both out there trying to make a play for the team."
Alabama will also have to the task of replacing sophomore Cam Sims who was expected to contribute this year. Sims suffered an ACL injury in last Saturday's practice and is expected to miss a good amount of this upcoming season, if not the whole thing, while recovering.
"It'll be a lot of hard work for him to get back at all for next season," coach Nick Saban said. "We're hopeful and we know what kind of person he is and he'll work hard to do it."