Former Alabama players participate in Pro Day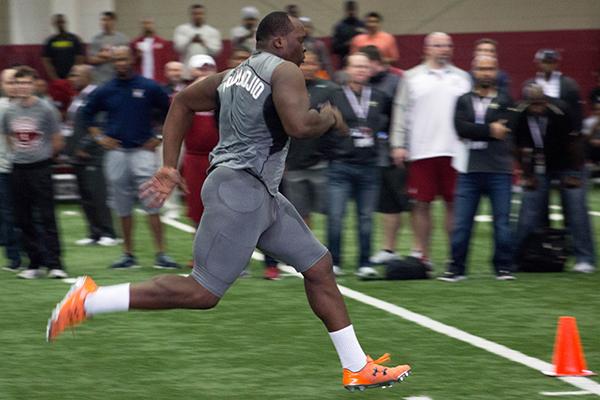 With representatives from all NFL teams present, Alabama's draft hopefuls participated in drills during Pro Day on Wednesday afternoon. The Crimson Tide had 17 former players participate in workouts, including safety Landon Collins and wide receiver 
Amari Cooper.
Both Cooper and Collins are expected to be drafted in the first round of this May's draft. Cooper will likely be the first or second receiver picked in the draft and said he was happy with his performance during 
Wednesday's drills.
"I think I proved I was a polished receiver," he said. "I felt like I could have run my routes a little bit more. They could have been a little bit crisper, but it doesn't always happen the way you plan for it to happen, so I'm fine."
Cooper did not run the 40-yard dash but did catch passes from quarterback Blake Sims, who was also working out in front of the NFL scouts and personnel.
Alabama's other projected first-round pick, Collins, is the No. 1 rated safety by most 
outlets and could be picked in the top 20.
Collins said playing under Nick Saban at Alabama has helped him get ready to play at the next level.
"I feel tremendously prepared," he said. "Playing under Coach Saban and Coach Smart and the great players that played there before me. Practicing with them made me a 
better player."
Other Alabama players who participated in drills include wide receivers DeAndrew White and Christion Jones, linebackers Trey DePriest and Xzavier Dickson, defensive backs Nick Perry and Jarrick Williams and tight end Brian Vogler.
One player Saban said he thinks could help a team out is fullback Jalston Fowler.
"Jalston Fowler can do so many things well," Saban said. "He is a really good receiver, he's a great blocker, he has running skills with the ball in his hand so he can be a big back for somebody. There are still some situations where guys like Jalston Fowler have 
tremendous value."
The 2015 NFL Draft will take place in Chicago starting April 30 and run through May 2.