Volleyball heads to NCAA tournament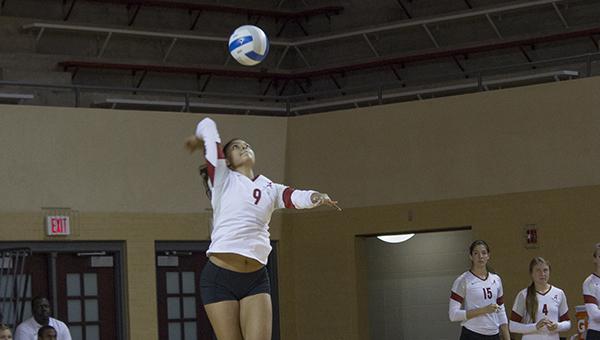 Coach Ed Allen said the Samford team is playing hot right now after winning the Southern Conference championship and will bring a particular set of challenges to the match.
"I think we're dealing with a team that is an outside driven team who we'll be forced to defend at the pins," he said. "They're an in-state rival which will certainly bring their best effort as it relates to 
playing against us."
The match will be the team's second consecutive tournament appearance, which marks only the fifth time that the team has qualified for the tournament in program history. The team has yet to win a first-round match and advance in tournament play.
Already this season, the team has broken the record for season wins with 25 and received AVCA Coaches Poll votes for the first time in 
school history.
Though the team is excited for the tournament appearance, Allen said, given the progression of the program, tournament appearances should become more frequent in the 
coming years.
"It's a situation where things are moving in the right direction, and we've been able to not only move them there over the course of the last two years but sustain things, to where hopefully that's just an expectation we have on a yearly basis," he said. "There's no reason to believe that this shouldn't be one of many more in a row."
Redshirt sophomore captain Krystal Rivers said the tournament appearance is coming at the end of a challenging season that has seen much growth from the young team.
"We've grown a lot," she said. "We had some moments that weren't so great, but we've learned from them. That's the biggest thing when you have such a young team, is learning from those moments where you don't get what you want. We've done a good job at, when we haven't gotten what we want and had the best matches, we've taken that and grown from it, and we've played better and better as time 
has gone on."
Freshman Kat Hutson said despite the successes, the team isn't celebrating its accomplishments just yet, and it won't be satisfied until the season is complete.
"It feels great, but it was definitely what we needed to do," she said. "It was what we expected to do coming into this season. In fact, next year we'll expect even more, to break more records, hopefully more attendance records, hopefully more winning records and make it even farther than how far we make it this year. But we're not satisfied until it's over and we finish where we want to finish, so nothing is accomplished 
quite yet."