Alabama faces No. 7 Florida Gators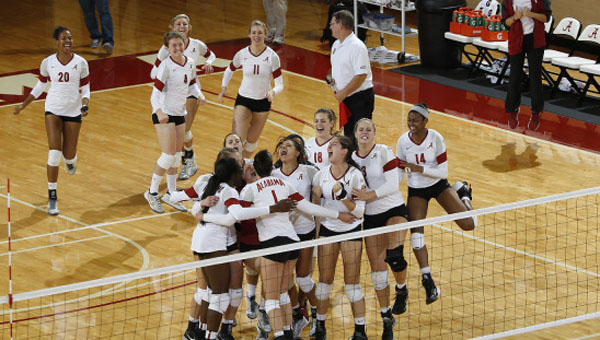 This weekend, the team will take on its second ranked opponent in a week's time as it travels to Gainesville, Florida, where it will take on seventh-ranked Florida at 6 p.m. CT, who will bring a high level of skill to the court.
"They're big, they're physical in every position, and they have talent in just about every position," Alabama coach Ed Allen said. "It's a program that's used to winning on a regular basis and advancing deep into the NCAA Tournament, so I think they'll make routine plays very routine and sometimes make very difficult plays look routine."
While Allen said the team's Halloween victory against A&M does put the team in a positive state emotionally, it's paramount to remember that prior performances don't carry from match to match, and the team must focus on the task at hand, a sentiment junior setter Sierra 
Wilson echoed.
"It's definitely a confidence booster going into Florida, a team who is also among the country's elite, but also, we can't get complacent," Wilson said. "So we're going to try to use that positivity and fuel this week, use it to 
work harder."
Although the team isn't reveling in last Friday's victory, the five-set win over A&M marked an important "first since" for the Crimson Tide. It was the first time since 2007 that the team beat a ranked opponent, and the first time since 2006 that the team beat a ranked conference opponent.
The match was also the team's second competition against the Aggies this season, as Alabama previously fell on the road in College Station, Texas, in five sets, making Friday's win all the more important for sophomore Brittany Thomas.
"It was definitely an opportunity that we needed to take advantage of, and I know we had a chip on our shoulder that we let the previous A&M match get away from us," Thomas said. "It was good to check that off of our to-do lists so we can move on to the next thing."
Thomas said the team was firing on all cylinders during the match, a feeling it hopes to replicate 
moving forward.
"I thought we performed really well as a whole, and we played together," Thomas said. "I think that was a great game for us to build on as we prepare for Florida, the last month of the season and the push to the tournament."
The team will remain on the road Sunday, facing off against South Carolina at 3 p.m. CT.