Rowing hosts home race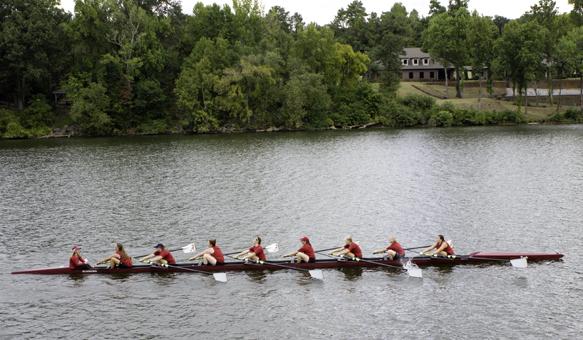 The team participated in a head-style race against the University of Alabama at Huntsville, the first fall head race the Crimson Tide has ever hosted. It also marked the last event ever hosted out of the team's old boathouse, as the team will relocate to its new facilities at Manderson Landing in the 
upcoming weeks.
While the team is extremely excited to relocate to the new facilities, junior rower Jacklin Byers said there will be some nostalgia as the team prepares to leave the boathouse it has called home for so long.
"We are so beyond excited that we finally get to have our new facility," Byers said. "It's going to be a catch-22 because this is our home and we've been here for so long, but it's just 
really nice to be able to have a 
brand new facility."
Coach Larry Davis said he thought his team did well in its first fall outing and last race in the old facilities, winning all three events of fours, doubles and pairs. The fastest four boat for the Crimson Tide recorded a 5K time of 16:35.2, while Alabama's top pair checked in at 17:01.8. The winning doubles crew clocked 
in at 16:47.2.
"Overall, I thought today went well," Davis said. "We did some things well, and there were some things brought to light that we still need to work on, but we're aware of that. The conditions were pretty good today, but they were a little tricky given the type of execution we'd like to see from our team day in and day out."