Volleyball to open SEC play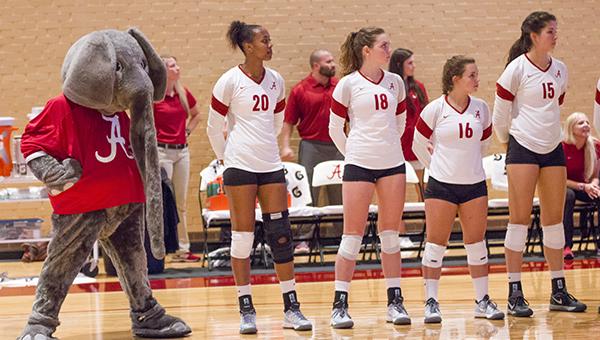 The Crimson Tide will enter the matchup on a seven-match winning streak, having also recorded a five-match sweep streak during the preseason, tied for the second longest streak in 10 years.
The match will mark the team's debut on the SEC Network, as it will be the first ever conference match televised on the new channel.
Despite the win streaks recorded and preseason success, coach Ed Allen said the playing field is level once again as conference matches begin, and Georgia's talent and home court advantage will make for a challenging match.
"We're entering a stage where everybody is 0-0. Obviously, they're a team that's experienced a fair amount of success with eight wins on the season, but we're all in a situation where we're all competing to try and win our first conference match," Allen said. "We think it's going to be as challenging as any team we've played to this point in the season."
It will be the first SEC match for four new Crimson Tide players, including 
libero Natalie Murison. She said the team is excited to get SEC play underway.
"I'm definitely very excited. It's going to be a good game," Murison said. "I think we're really excited just to get the SEC started and to show everyone that we're ready to play."
The team has only two seniors on the roster, Caitlin Bernardin and Katherine White. Bernardin, who said the team is "ready to roll" with a positive attitude, said she enjoys the youth of the team.
"I love being around the younger girls and being able to lead them both on and off the court, and just being there in a supportive role. Being a mentor for them is really big for me," Bernardin said.
The Crimson Tide will enter the match aftere a sweep of the Crimson-White Tournament. For her efforts in the tournament, redshirt sophomore Krystal Rivers received SEC Offensive Player of the Week honors after she led the Crimson Tide in kills. Rivers enters Wednesday's match boasting 215 kills in the season, second highest in the SEC. She currently leads the conference in service aces with 26, eight higher than second place.