Tide defense causes three turnovers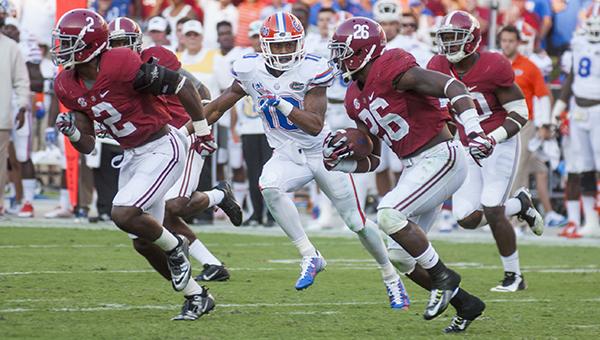 The first fumble of the game had the Gators starting at Alabama's 31-yard line. Blake Sims' only pick of the game came at Alabama's 36-yard line and was returned to the 16-yard line. With the Gators consistently starting in the red zone or knocking on the door of the red zone, there wasn't much opportunity to 
stop them.
But the defense tried. On the first turnover, Alabama had Florida on third and long at the Crimson Tide's 28-yard line. Florida scored the next play.
"We did a good job on a couple times when we got bad field positions making stops," Alabama coach Nick Saban said. "But the first touchdown, we had them third down after a turnover, busted a coverage and so that kind of stuff we've got to eliminate as well."
After emphasizing turnovers and tackles this season, the defense reaped the rewards. It caused three turnovers, the most by Alabama this season.
"The performance on defense was really good," safety Landon Collins said. "We had communication going on all over the field. We stayed in tune with each other and we had great composure. Our big concept today was to get turnovers – interceptions or strips, anything we could get. That was our big thing, because if you want to be a champion, that's what you need to do as a defense."
Jabriel Washington recorded the first interception for Alabama, and Landon Collins nabbed the second.
"Defensively, I thought we really played well in the game," Saban said. "We did a good job in coverage for the most part. We were able to stop the run, because that's something they really hung their hat on. I thought we were pretty effective with that, and we got some turnovers too that were huge in the game."
Saturday marked true freshman Tony Brown's first start. He had three total tackles, including one for a 6-yard loss.
"Tony is making a lot of progress, playing with a lot more consistency, has a lot better idea of what he's supposed to do and how to do it, and I think he can 
continue to get some playing time," Saban said.
Florida was held to 200 yards on Saturday. This year alone, Alabama has held three of its four opponents to fewer than 300 yards of offense. Southern Miss was held to 263 yards and Florida Atlantic finished with 145 yards. The game against Florida Atlantic was cut short due to lightning.
"That's just a good team," Florida quarterback Jeff Driskel said. "They had good players. It had nothing to do with schemes that we haven't seen. We didn't make the plays when they were there, and they did as well. We didn't play well enough to win against a 
good team."