Yeldon, Henry lead running backs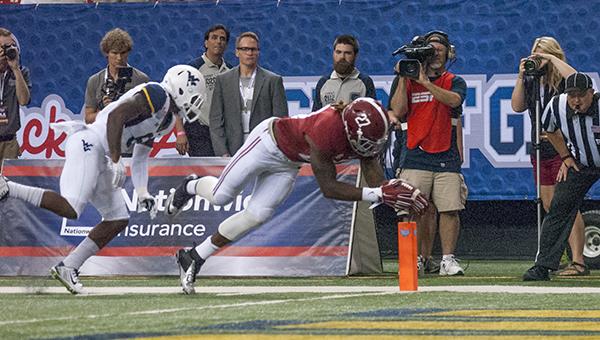 Between the two of them, they put up 239 yards rushing on West Virginia in the 33 to 23 win. The offense had a net 288 yards rushing.
"I like the way both guys played," Alabama coach Nick Saban said in his Monday press conference. "That's probably, as long as we can keep them healthy and they can stay healthy, that's probably how we'll play."
Yeldon and Henry also combined for three rushing touchdowns, which were Alabama's only touchdowns against the Mountaineers.
If Yeldon needed any further proof of his athleticism after his leaping touchdown against Missouri in 2012 or scoring on a screen pass to seal the comeback 21 to 17 victory in Death Valley in 2012, he did it again, this time stiff-arming a Mountaineer defender before leaping into the end zone.
He nearly did it again two Alabama drives later, but his dive fell short. He punched in a one-yard touchdown the next play.
"That's how we sort of went in the game planning, to play the game," Saban said. "Probably use Kenyan Drake a little bit more in special situations. Just didn't maybe come up where he would come up … We thought he would play a little bit more in the game. Didn't quite come up quite as much those situations. We have a lot of confidence in all three of those guys."
But Yeldon isn't the only who who can run for Alabama. The backfield is loaded with Henry and Kenyan Drake, who poses a threat as a receiver beyond just a running back.
Henry averaged 6.6 yards per carry Saturday and totaled 113 yards rushing. His 19-yard touchdown run put Alabama out of reach of the Mountaineers.
"[Yeldon and Henry] looked good out there this week," fullback Jalston Fowler said. "Both of them are running with speed, power and explosiveness."
Fowler said blocking for each of those backs is a different experience.
"You gotta get out of Derrick's way. [He'll] run right up your back," Fowler said.
For all of Henry's potential, Yeldon is the one who has already cleared a spot in the record books. After two years, he was 12th on the list of career rushing yards. After Saturday's game, he moved up to 11th with 2,469 yards. Every person above him has those numbers through three seasons.
Yeldon is the fifth person in school history to record two 1,000-plus yard seasons. He was the first to do so in his first two years.