Larry Langford, one last time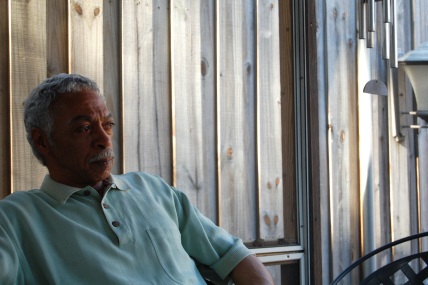 FAIRFIELD – Larry Langford, puffing on a Salem cigarette, looked around his backyard and then up toward the sky.
Sitting in a screened-in gazebo, Langford knew he would only have a few more opportunities like that at the ranch-style home he has lived in since 1982.
Until October, Langford was the mayor of Birmingham, a flamboyant former television reporter who had become one of the state's most powerful politicians.
Today, stripped of his office, he will enter a prison about 125 miles east of Lexington, Ky. A federal inmate, he'll be identified by little more than a number: 27349-001.
It was numbers that destroyed Langford's career and will, unless his appeal is successful, keep him behind bars for the next 15 years.
In December 2008, a grand jury indicted him on 60 counts, including bribery, money laundering, and conspiracy. The charges stemmed from allegations Langford took $236,000 in bribes from Bill Blount and Al LaPierre to maneuver a bond contract to Blount's investment company while Langford served as president of the Jefferson County Commission.
By the time Langford's case went to trial in October, Blount and LaPierre had already pleaded guilty and agreed to cooperate as government witnesses.
It took a Tuscaloosa jury less than three hours to return a verdict: guilty on all counts.
In March, a federal judge sentenced him to 15 years in prison, less than what prosecutors sought (24 – 30 years), but more than what Langford's attorney argued was appropriate (similar to the 52-month sentence Blount received under his plea agreement).
On Monday, 48 hours before he was to report to the Federal Correctional Institution in Ashland, Ky., Langford sat down for a wide-ranging interview that spanned 84 minutes. Langford, who said the session was both his last interview and exclusive to The Crimson White, was not accompanied by his attorney.
'I still can't believe this has happened'
More than five months after the verdict, Langford said he remains in shock. "I still can't believe this has happened," he said.
He said he doesn't understand how a jury convicted him or why Judge Scott Coogler, who presided over the trial, didn't dismiss the case outright.
"LaPierre and Blount both said 'We never talked to this man about anything,'" Langford said. "If I never forget anything else in my life, I will never forget these guys truthfully saying from the stand, 'We never talked to Langford about this, and there was no quid pro quo.'
"I don't think it ever should have gone to a jury to begin with. I just knew that the judge was going to throw the case out. Boy, was I wrong," he added.
However, the testimony of Blount and LaPierre was the centerpiece of the prosecution. "I bribed Larry Langford," Blount was reported to have said during the trial.
Jim Phillips, the acting U.S. attorney for the Langford case, said, "We and the jury obviously disagree with Mr. Langford's interpretation of the evidence."
In a Langford-initiated phone call Monday after the interview, the former mayor added he had taken and passed a polygraph examination, the results of which were not admitted into evidence at trial.
Langford said he did not testify in his own defense because he was confident of a forthcoming acquittal. "I didn't take the stand because the two main witnesses said they didn't talk to the guy. Otherwise, I would have taken the stand," he said. "It couldn't have been any clearer."
'The victim of my own government'
For months, Langford has argued that his prosecution was motivated by race and partisan politics.
"In the midst of all of this, I see McCarthyism rearing its ugly head again," he said. "I spent over four years in the Air Force to protect the rights of this country, to ensure justice for everyone in this country. To now be the victim of my own government is a little hard to deal with."
But Langford said he has moved past the motivations of others. "I have tried my damndest to hate," he said. "I have looked at this case up and down, and I've tried to say to myself, 'Oh how easy this would be to just say this is still white folks just being white folks.' But that would be a disservice to whites or blacks who had nothing to do with it."
Langford, who teaches Bible study courses at a community center and at Miles College and has spent much of his free time in recent months working on manuscripts of the Bible, cited his religious faith as the reason he has endured.
"I'm at peace with it, believe it or not," he said. "But I also know this: I serve a God who has made it very clear that it is appointed unto man once to die and then the judgment … God will visit everybody for what they've done."
He said that because of his religious convictions, he prays for those who worked against him, though he refused to specify who he was referring to. "I pray for all of them, [but] not because I want to," he said.
He also said he recognizes his own faults. "I'm not trying to give the impression that I'm a saint. I'm a real son-of-a-bitch when I want to be," he said.
'A life sentence'
Langford does not plan to return to Alabama. He doesn't think he'll have the chance.
"I'm 64 years old. Fifteen years is a life sentence," he said. "I don't see me ever coming back here. I don't think I'll ever get out of prison alive."
He has told his family not to concern themselves with the burden of traveling nine hours to visit him. "Just pretend that I'm dead now," he said. "I'm OK with that."
In his final days of freedom, he said he has cooked and spent time discussing the future with his family.
"I've told them what I expect out of every member of my family," he said.
He also said he wrote a letter to his wife, Melva, which he will leave on the computer.
When he reports to prison, his wife will accompany him, along with his son and sister-in-law.
Langford said he initially wanted to travel to Kentucky alone, saying he didn't want to put his wife through the ordeal or "see the tears and hear the crying." At his family's insistence, he acquiesced.
On Monday, he wasn't sure of what his final words to them would be.
To the end, though, Langford remained defiant about his legal problems. "I have unfairly lost my freedom," he said.
---
Before he began a 15-year federal prison term for taking $236,000 in bribes, former Birmingham Mayor Larry Langford taught a weekly Bible study.
During a final interview Monday with The Crimson White, Langford provided copies of four of his presentations.