Editor's note (09/24/23): This article has been updated to include a statement from the Interfraternity Council. 
A lawsuit filed against the UA Mother Mu chapter of Sigma Alpha Epsilon on Tuesday described alleged hazing against a pledge who was a minor and suffered a traumatic brain injury at the hands of active members.  
Evan T. Rosemore, one of the lawyers representing the minor, referred to as H.B. in the lawsuit, said that H.B. is a standout student.  
"He got into Harvard … but Alabama paid him to come here," Rosemore said. 
A copy of the lawsuit obtained by The Crimson White lists six defendants, including the SAE national organization, the Alabama Mother Mu chapter, SAE adviser Hugh Miller, and three active members of the fraternity. 
The lawsuit lists five total counts including negligence/wantonness, fraud/misrepresentation, and assault and battery. 
According to the lawsuit, H.B. alleged that the active fraternity members ordered him to "snort a white powdery substance," and when he refused, he was ordered to go to "the basement where he was told that he was going to die." 
An active fraternity member then allegedly "began striking blows to H.B. at the face, side of the head, stomach, and sides." According to the lawsuit, the supposed pledge trainer then told H.B. "that beatings would get worse for him if he didn't do what the active members said." 
The active members then allegedly forced him onto the front porch and into a kiddie pool and "demanded that H.B. yell a racial epithet, including at a Black student passerby." However, H.B. refused. Because of that, a member "sprayed him with a water hose 1-2 inches from his nose and mouth for about 30 seconds," the lawsuit claims. 
The document alleges the supposed pledge trainer then threw a beer can at H.B.'s head. 
H.B. was then supposedly "forced into the courtyard to run suicides while active members launched blunt objects at his legs." 
Eventually, H.B. allegedly "lost consciousness, [saw] stars, and suffer[ed] a traumatic brain injury." 
Since the incident, Rosemore said H.B. has experienced "blurry vision, real bad headaches, and actually lost eyesight for some period of time."  
This is not the first time SAE has been accused of hazing. In 2013, Bloomberg reported that SAE was the "deadliest frat in America" after the fraternity had nine deaths between the years 2006-2013.  
Since spring 2019, the UA chapter has been punished multiple times for conduct violations, including in spring 2021 for hazing.  
The table below was compiled from the Office of Fraternity and Sorority Life's Greek scorecards, which display punishments faced by fraternities and sororities each semester.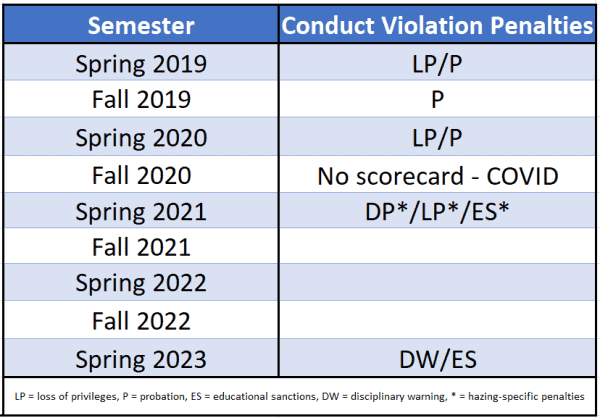 However, the SAE national organization claimed to have eliminated the pledge process in 2014 and replaced it with a program called "The True Gentleman Experience." Their website also states that they "do not believe in or support hazing of any kind."  
"The Sigma Alpha Epsilon Fraternity Service Center was made aware of an incident in August involving members of our chapter at the University of Alabama," said Dave Pascarella, director of communications for the SAE national organization. "We are also fully cooperating with local law enforcement to investigate the incident and have urged all of our local members to do the same."  
Rosemore said that the Alabama chapter is not doing its part in protecting new members or holding active members guilty of hazing accountable.  
"For this kind of thing to happen the first time he stepped foot in the SAE house just shows that there's a gigantic failure in SAE's system," Rosemore said. "For them to allow this kind of thing to happen, I mean, almost a decade after they said that pledgeship isn't a thing anymore, it just kind of shows that there's really no oversight there." 
Rosemore also said that he hopes to raise awareness and end the stigma around reporting hazing.  
"I think if you ask the parents and if you ask the minor himself, I think the first thing they'd tell you is that they don't want this to happen to somebody else," Rosemore said. 
The University of Alabama prohibits hazing, with multiple Greek organizations participating in National Hazing Prevention Week each year.  
"The safety and well-being of our students is our top priority," Alex House, UA assistant director of communications, said. "Any alleged violation of policy or law is taken seriously and fully investigated. The University strictly prohibits any form of hazing, as reflected in our policy." 
One defendant's father claimed that his son was misidentified in the lawsuit and was not involved in the alleged incident.  
In an email statement, the Interfraternity Council said it does not condone or tolerate hazing. The organization also cited the University's 24/7 hazing hotline and online hazing prevention training, adding that the IFC works closely with new member educators and executive council members of each chapter to "structure safe and enriching new member programming and experiences."  
The IFC's statement concluded by saying that it could not comment on the validity of the hazing allegations, as the lawsuit is ongoing. 
The Mother Mu chapter president and chapter adviser currently listed on MySource, did not respond to requests for comment by the time of publishing. 
Jacob Ritondo contributed to the reporting for this story. 
This is a developing story and will continue to be updated.