The University of Alabama recently announced multiple grants intended to improve equity in health care and health care professions in Alabama — an extension of an existing grant for the Equitable Neighborhoods Initiative and new funding for the Bama DIstance program. 
Equitable Neighborhoods Initiative grant extension
The first, an extension to the University-run Equitable Neighborhoods Initiative that began in 2021, will promote health equity among underserved populations within Alabama, such as minority and rural populations.
The ENI received a one-year, $3.7 million extension to its original two-year, $4 million grant in 2021 from the Centers for Disease Control and Prevention and the Alabama Department of Public Health, the University announced in a news release.
ENI is a project led by the UA Center for Economic Development that aims to address minority and rural health inequities in Alabama — inequities that were exacerbated and accentuated by the COVID-19 pandemic — by partnering with communities statewide.
Arturo Menefee, project leader and interim executive director at the UA Center for Economic Development, said that the extension will allow the project to run until the grant ends in May 2024.
As a result of the grant extension, ENI will be able to increase its community partnerships from 15 to 20.
"The primary goal is to really focus on working with underserved communities that were hit really hard by COVID, as well as addressing some of those social determinants of health from those issues that were there long before COVID even ever hit," Menefee said.
According to its website, the initiative "equips communities to address the pandemic-related issues of today while building capacity to deal with the health and quality of life challenges of tomorrow." To do this, ENI works to build local organizations and connect those groups to the resources they need to improve health equity and community development.  
This can take the form of financial backing, as with the $60,000 ENI dedicated to a LaFayette community project. Frequently, participating communities host workshops and clinics with the backing and support of the organization.
ENI helps create local advisory groups and youth councils that allow people young and old to improve their community's health outcomes. 
Each partner community creates a local health equity plan, health resource directory and "healing zone," a natural recreational space intended to improve physical and mental health.
Health disparities in Alabama existed prior to the pandemic. According to the United Health Foundation's health disparities report, Black and American Indian/Alaska Native Alabamians had the lowest percent of those with "high health" status of any race since at least the 2011-2013 time period.
The UA News release states that ENI has made significant progress in addressing health disparities in participating communities; for instance, through ENI, the MOWA Band of Choctaw Indians began constructing a veterans park in 2022 as part of a healing zone effort.
One of Menefee's primary goals for the project is raising awareness on health equity in underserved communities.
"We realized there are a lot of untapped resources in these various communities, so one thing we try to do is level the playing field by making them aware of those resources or bringing those resources to the table to assist them directly," Menefee said. 
Nursing school workforce expansion grant
The U.S. Department of Labor awarded the second grant, worth $3.5 million, to the Capstone College of Nursing in an effort to increase nursing faculty diversity and recruitment. This comes as nursing colleges face faculty shortages nationwide, shortages that many fear could exacerbate the lack of qualified nursing staff in the future.
This grant will be used to increase nursing faculty through the Bama DIstance program.
Susan Welch, the Bama DIstance project lead and an associate nursing professor, said the grant came after the U.S. Department of Labor recognized there was a national nursing faculty shortage. 
To remedy the shortage, the department awarded 15 grants nationwide to grow and diversify the nursing workforce and nursing faculty nationwide.
Welch said the University applied for the five-year grant in the fall of 2022 and officially received it on June 1.
Bama DIstance, which stands for the nursing department's "diversity and inclusion stance," is an online graduate program where the Capstone College of Nursing partners with historically Black colleges and universities and other colleges from underserved areas in Alabama to diversify and grow the number of nursing educators.
Welch said the bulk of the grant will be used to pay for nurses from underserved populations who already have a Bachelor of Science in nursing to obtain graduate degrees in nursing education.
Welch explained the current outlook of nursing education.
"Projected by year 2025, we're going to lose another 25% of nursing faculty nationally because they're going to retire," Welch said. 
At the same time, the U.S. Bureau of Labor Statistics predicted that over 195,000 additional nursing jobs will be needed from 2021-2031.
Welch said 80 new nursing faculty in the state of Alabama are expected to arise from the Bama DIstance program within the next five years.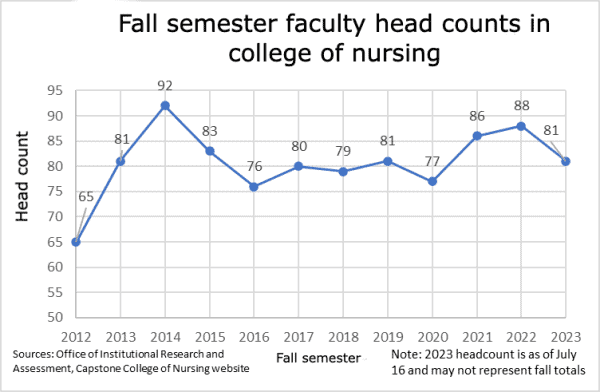 "Another issue nationally, as well [as] in the state of Alabama, is our nursing faculty don't represent our populations," Welch said. "So this is truly our stance to be bold and diversify nursing faculty in the state of Alabama."
Welch said she has been in nursing education for almost 20 years. During this time, she said the conversation has always been focused on the need to diversify the nursing faculty at the national level. 
She said the grant is currently being used this summer to train other members of the project's team, including a health and wellness coach and a diversity champion position.
Tracey Shannon, interim dean for the School of Nursing and Allied Health at Tuskegee University, a historically Black university, said her school is actively recruiting nursing students to join the Bama DIstance program and work as adjunct clinical faculty while pursuing their degree in nursing education. 
Shannon said there is a need for more nursing educators and nurses to enter the workforce in underserved areas so that health care availability will increase. 
"I am excited about the opportunity that is being provided for those persons who are interested in returning to school to earn a Master of Science in Education," Shannon said. 
Rhonda Bowen, a nursing instructor and division chair at Bevill State Community College's Fayette campus, said via email that she's had a few students interested in pursuing a graduate degree.
Bowen said the students at the community college are pursuing associate's degrees, so they'll need to earn a bachelor's degree elsewhere before working toward a master's degree in nursing. 
Forbes Advisor estimates that students "can pay between $20,000 to over $100,000 in total for a BSN degree."
Bowen said that "more financial funding for students" is an essential step toward building equity in the Alabama health care system.
"The educational and internship funds provided from this grant will allow potential nurse educators an opportunity they may never have had without significant personal debt or student loans," said Reitha Cabaniss, associate dean of health sciences at Bevill State Community College.
Cabaniss said in an email that she hopes 20-25 nursing adjunct instructors will participate in the new program.
Welch said she believes her program will be a "pilot" for other states.
Although the grant only funds the program for the next five years, Welch said she hopes Alabama's legislature will take initiative to help these higher education programs continue. 
"I look forward to the Capstone College of Nursing being the leader in diversifying nursing faculty and also addressing the nursing faculty shortage," she said.
Jacob Ritondo contributed to this story.