Culture Pick: Songs to play during the first weeks of spring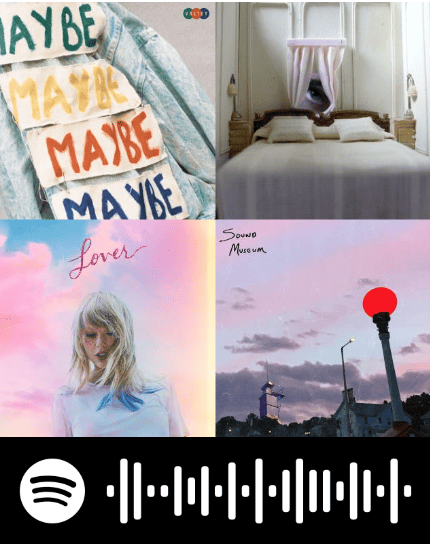 Spring break has come and gone, along with the last few days of winter. Flowers are blooming, pollen is in the air, and the Quad can be seen peppered with students enjoying the first days of spring.  
As students prepare for the anxiety of finals and the long-awaited summer break, here are some songs to listen to, whether holed up in your dorm with allergy medicine or enjoying the warm rays of the sun. 
"All of the Girls You Loved Before" by Taylor Swift  
On the eve of the opening night of her Eras Tour, Taylor Swift left fans speechless with a surprise drop of songs, one being a vault track from her seventh studio album, "Lover." The track fell right in line with the upbeat, swoon-worthy record, depicting a story of two people who, despite their histories, find each other. With the airy vocals and dreamy production, it is hard not to put it on repeat as you walk across campus, accompanied by the newly blooming season.  
"West Coast" by Coconut Records 
Starting off with light piano and a shaking tambourine, actor Jason Schwartzman harks back to a spring day in the early 2000s with his chill, relatively unknown music produced under the Coconut Records moniker. Released in 2007, "West Coast," along with the "Nighttiming" album, presents a relaxed indie-pop atmosphere.  
"Sound Museum" by John Shakespear 
After taking a hiatus from releasing music for two years, indie music artist John Shakespear returned in late February with his latest single and release, "Sound Museum." Its upbeat melody paired with Shakespear's low and relaxing voice draw listeners in to experience his own personal sound museum. 
"Sports Car" by Valley 
"Sports Car" is an energetic, indie-pop track that embodies the feeling of driving with the windows down. The warmth of Rob Laska's lead vocals paired with the light piano anchoring the track and the claps accenting the drums create an atmosphere that has the promise of spring. The lyrics explore themes of personal growth, new beginnings and living life in the moment. The song's climax — what the band calls a "spooky synth solo" — lends a nostalgic sound to the track, giving it the perfect blend of sound to welcome the new season. 
"seven" by Taylor Swift 
"seven" is a mellow but still upbeat song on Taylor Swift's "folklore" album. It is great for spring because its piano melody is soothing and the lyrics are poetic, making it interesting to listen and sing along to. Spring is a season of transition, and "seven" is a song that can adapt to any vibe, whether you play it on a rainy spring day or while relaxing outside in the sun.  
"Gypsy" by Fleetwood Mac 
"Gypsy" is a classic Fleetwood Mac track that is upbeat, flowy and melodic. Coming out of winter and heading into the spring and summer, "Gypsy" is a wonderful song that has pretty lyrics and an energizing tone while still feeling laid back. Even though it is not a newly released song, Stevie Nicks' voice never disappoints.  
"Hello It's Me" by Todd Rundgren 
Written after a particularly painful high school breakup, this jazz hit by Todd Rundgren is a sad song disguised as an upbeat and positive melody. If you don't pay attention too much to the lyrics, "Hello It's Me" can put a pep in your step, but if you do need that cry, then just wallow in your sadness with Rundgren as the peppy beat lifts your spirits. Most importantly, this song can be found in the "Sex and the City" reboot "And Just Like That," and in a pivotal scene, nonetheless.  
"Eat Your Young" by Hozier 
This past week, Irish songwriter and musician Hozier released a new EP on none other than St. Patrick's Day. Consisting of three songs from an album called "Eat Your Young," which will come out in late summer, the song "Eat Your Young" is just the right amount of haunting gospel music vibes with a bit of pop mixed in. With biblical imagery and inspiration garnered from Dante's "Inferno," this song is perfect for evoking the more sinister tales that may come from spring. 
"Violet Chemistry" by Miley Cyrus  
On her eighth studio album, "Endless Summer Vacation," Miley Cyrus is in rare form. With "Violet Chemistry," an electropop love song reminiscent of her 2013 album, "Bangerz" — in part to it featuring "Bangerz" producer Mike WiLL Made-It — Cyrus is vibrant and holds nothing back. With lyrics that paint a picture of an exhilarating dance floor where nothing else matters but that moment, and an infectious beat, the song is the perfect mood booster. And even though it's not summer just yet, for four minutes and 7 seconds, you'll feel like you're on your own endless summer vacation. 
"Riptide" by Vance Joy  
"Riptide" was a song released in Vance Joy's 2014 album called "Dream Your Life Away" and continues to be Vance Joy's most popular song on Spotify today. The song has an upbeat rhythm that keeps you happy, but the acoustic guitar almost brings a sense of nostalgia for events that are currently happening. This is a song for walking to class, finishing up finals and soaking up final memories with friends before the semester ends. Listen if you both want to look into the sunny future while also enjoying present moments with friends in Tuscaloosa. 
"Feather" by Sabrina Carpenter 
Recently, Sabrina Carpenter released an extended version of her fifth studio album, "Emails I Can't Send," which included four new songs. One of them, "Feather," is yet another pop-hit that incorporates a wide range of vocal and instrumental prowess. The song provides an upbeat melody and lyrics that serve as a reminder to stop caring about those who never cared in the first place. Once again, Carpenter has demonstrated her musical talents in a track sure to be a spring sensation.