Alabama Ticket Exchange post results in derogatory remarks and threats against students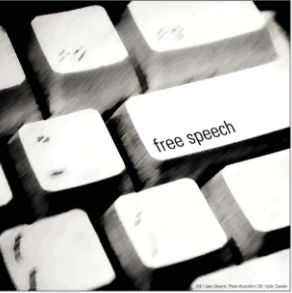 A UA student was suspended after peaceful protest turned to threats of violence stemming from the ongoing conflict over symbolic demonstrations surrounding the national anthem.
During Alabama's homecoming football game, a group of students held a protest in Bryant-Denny Stadium, sitting for the national anthem to raise awareness for racial injustice across the country. Using the hashtag #bamasits, the group organized prior to the Oct. 1 home game against the Kentucky Wildcats, following the trend of student sections across the country mimicking Colin Kaepernick's NFL protests.
Since that time, a counter movement has emerged on Facebook known as Bama Stands, calling for students to stand in patriotic attire while the national anthem is performed at the next home game. Right after the event was posted on the Alabama Student Ticket Exchange group, comments came flooding in. 
Most comments were benign, but some insulted and even incited violence against #bamasits.
Dustin Ginsberg, a senior majoring in political science, said he posted a response to the Bama Stands event in the ticket exchange stating that not everyone will stand for the national anthem at the next home game. After this, Justin Flevarakis, a commenter on the Facebook group, threatened him.
Flevarakis wrote to Ginsberg that he would, "literally F****** pick [him] up and put [him] on [his] shoulder and hold [him] like a F****** child since [he wanted] to act like one."
Ginsburg then contacted the Office of Student Conduct. 
Since then, Ginsberg has received an apology from Flevarakis, but Ginsberg said the apology came after the Office of Student Conduct contacted Flevarakis about what happened.
In addition to Flevarakis' threat to Ginsberg, Ryan Parish, who at the time was a student at the University, sent multiple racially-specific messages and threats, including, "I'll kill you n***** don't speak to me wrong," and, "I'll kick your black ass," as well as "you b****."
The Crimson White reached out to Flevarakis for comment, but received no response by press time.
Parish originally displayed a confederate flag as his cover photo on Facebook, but in the wake of his comments and increased attention, he changed the photo and issued an apology. He said he regrets what he did and that he is not "that type of person." 
Parish has since deleted his Facebook account. The Crimson White reached out to Parish for comment, but received no response by press time. 
The same morning, the University was made aware of the derogatory comments and messages, and issued statements on its Facebook and Twitter accounts. On Facebook, the University said while it respects the freedoms this country affords its citizens, the University does not support the use of "hostile language or threats of violence in any situation." The University added authorities had been notified and the social media posts would be addressed.
Afterwards, The Crimson White received reports that University President Stuart Bell met with various authorities, including the heads of Tuscaloosa Police, UAPD and members of Student Conduct. Shortly thereafter, Parish was suspended and removed from campus.
Emerald Vaughan, a member of the #bamasits group, said while she is glad the University suspended Parish, she hopes he is ultimately expelled. Vaughan also said many commenters were upset about the group's protest, claiming the group's refusal to stand during the national anthem showed a lack of support for U.S. troops who fought for their freedoms. 
Vaughn said nothing could be further from the truth. 
"My uncle fought in Vietnam and he 100 percent supports me," she said. "My family is 80 percent military, and they 100 percent back me everything. They said they are proud of me and support me."
Vaughan said the prejudicial remarks and threats that were made are totally unacceptable and verify the reasons for the group's protest. 
Bama Stands released a statement on Wednesday morning condemning the actions of Parish, and called for immediate disciplinary action. The group's full statement can be found on their Facebook page, but a portion of their statement detailed why the group decided to post the event in the first place and their stand against Parish's remarks. 
"Bama Stands is not an effort to suppress the right of individuals to protest by sitting or kneeling during the National Anthem," the group said in a statement. "Doing so is their right, and we recognize and respect that. Instead, the focus is on drawing attention to the reasons we do stand and motivating individuals to view the anthem as more than a two-minute inconvenience. Today, we stand with those who feel threatened by Mr. Parish's statements and call upon all to view his actions as not simply a one-sided politically/racially charged statement, but as an act against our liberty and the sacrifice made to secure those liberties."
Those affected by the comments on Facebook have not stopped now that Parish has been suspended. Chad Hankins, a junior majoring in political science, confirmed on Wednesday that complaints against the University have been filed with the U.S. Department of Justice and Department of Education in conjunction with the NAACP. 
The Crimson White will continue to follow this story as it unfolds.