Tribute jazz concert to honor Nat King Cole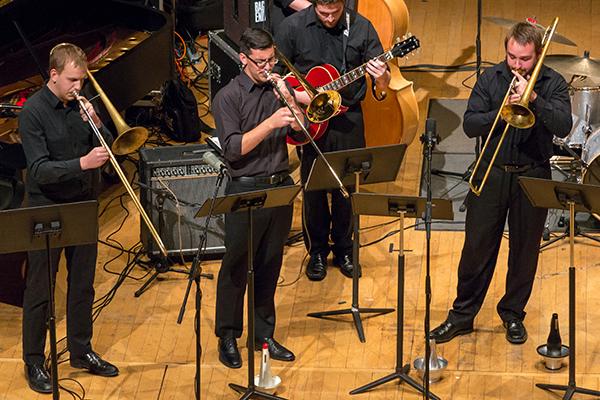 Flora worked with Professor Jonathan Whitaker's trombone choir several times in the past and said he loves collaborating with the group.
"The reason I love to work and perform with this group is two-fold," Flora said. "First is the high level of musicianship in the group. Second is the relentless demand for excellence by [Whitaker]. [Whitaker] will not accept anything less than excellence from himself or 
his students."
Dan Kolan, who is pursuing his doctorate of musical arts, said he, like Flora, listened to and loved Nat King Cole's music in his childhood. Flora and Kolan both said this music is meaningful and 
personal to them.
"It's just music that's really close and dear to my heart, and every opportunity that I have to play that music or that I style, I love to take it," Kolan said.
Kolan will play the main melodies with another member of the trombone choir, Ben Carrasquillo, a senior majoring in jazz studies. Because of their experience in jazz, Carrasquillo and Kolan said they help to lead a choir of classically 
oriented players.
"With that comes the responsibility of taking a lot of improvisatory solos during the concert with Sim as well," Carrasquillo said. "I always enjoy any opportunity I get to solo and perform that kind of material in front of a 
large audience."
Whitaker said he took advantage of this upcoming concert to educate his 
students in jazz trombone music.
"Doing a program of all jazz-oriented music is a challenge but it is also a pedagogical or teaching opportunity to make sure that all of the students are well rounded in their education," he said.
The concert will feature legendary jazz standards such as "When I Fall in Love," "Route 66," "The Christmas Song" and a country medley that is not to be missed, Kolan said.
"There are going to be several tunes that even if people don't recognize the titles, they're definitely going to recognize the tune and maybe remember listening to their grandparents or parents play this music," he said.
Whitaker said the concert will run about an hour long and will include Flora playing a little flute and talking about Nat King Cole's life and music. The concert will take place in 125 Concert Hall, Moody Music Building at 7:30 p.m. Thursday. Flora said at this concert, the audience will learn a thing or two about Alabama legend Nat King Cole and will get to enjoy one great trombone choir.
"I'd like to promise people, that anyone who shows up to this will have a fun time, learn something, and will go away 
whistling these songs," Flora said.
Tickets are $3 for students, $10 for general admission and $5 for audience members ages 55 or older. They can be purchased online at uamusic.tix.com or in the box office inside the main entrance on the day or night of the event.
The concert will be streamed online free of charge at 
ustream.tv/channel/uofa-som.