On pointe: Annual dance concert to return to UA on Tuesday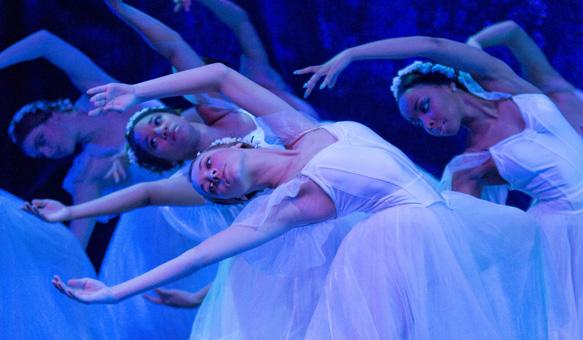 Alabama Repertory Dance Theatre will return to Morgan Auditorium for the spring concert this Tuesday, featuring choreography from five professors in the department of theater and dance.
"Throughout all of it, the students are truly amazing," said Rebecca Salzer, a first-time faculty choreographer. "You will be uplifted by their versatility, 
virtuosity, strength and passion."
The ARDT Concert was created about 20 years ago by Cornelius Carter, director of the dance program and artistic director of ARDT. Every year the faculty members in ARDT showcase their ideas and help students gain professional experience on the stage.
The first half of the show will feature an excerpt of the ballet "Giselle," which was first performed in 1841 in Paris, France. The second half will feature five original pieces choreographed by faculty choreographers.
The show will include pieces choreographed by Salzer, Qianping Guo, Cornelius Carter, Rita Snyder and Lawrence Jackson. Jackson said more than 60 UA dance majors will perform in the show.
"It's a great chance to show [the versatility of] our students and the talents of our faculty [members]," he said.
Students and faculty members began preparing for the concert in October in order to ensure a high-quality performance, Salzer said.
The spring concert will be the last time Emily Higginbotham, a senior majoring in dance, performs as a part of ARDT.
"ARDT has been a part of my college career every semester since freshman year," she said.
Higginbotham has multiple roles in the show and will be dancing in a jazz piece, a funk ensemble piece and as Giselle in the ballet. Working with different styles of choreography was both interesting and challenging, she said.
"The rehearsal hours are incredibly long and balancing everything on my plate is hard, so I'm relieved to have a little more free time," she said.
Studying dance at the University has not only made her a better artist, but it has also made her more intelligent, more professional and more diverse in her talents, Higginbotham said.
The ARDT Concert will be held from Feb. 10 to Feb. 12 at 7:30 p.m., Feb. 13 at 5:30 p.m. and Feb. 14 at 2 p.m. in Morgan Auditorium. Tickets are available at ua.tix.com and cost $14 for students.