Professor doubles as musician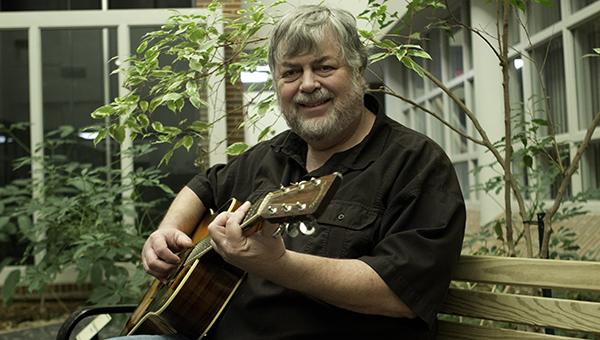 Lane, a chemical engineering professor, started playing music as a child growing up in Portland, Oregon. He did not start putting out recorded material or playing live until 2006.
"When I was about 48 years old, I decided if I didn't start getting out into the clubs and playing before I was 50, I probably never would do it," he said. "So I started making concerted efforts to get out to open mics and play."
Lane said he has played almost every club between Tuscaloosa and Birmingham and has experienced some difficulties in balancing life as a professor and life as 
a musician.
"Most venues start about 10 [p.m.], and I usually give myself a curfew of around midnight. he said so sometimes I'll get home later, especially if I'm playing in Birmingham." "You can lose a little sleep like that."
Lane released a new album in November 2014 called "Ride The Bus." Lane played all of the 
instruments on the album except drums and keyboards. The album's sound spans from early Beatles to blues. The title track, "Ride The Bus," chronicles the story of the Freedom Riders. Lane said it is one of his favorite songs on the album.
Doobie "Doghouse" Wilson's sophomore album, "Too Wet for Comfort" was featured on The University of Alabama radio station, WVUA-FM. He said having the album played on the radio exposed some of his students to his music.
"Students would come up to me and say, 'Hey, I heard your song on the radio,' and things like that he said. I also get 
recognized when I'm out playing open mics quite usually."
Lane has produced an album every two years since 2010. Each album has a different style and sound.
"I like his music,' said Caitlin Weldon, a freshman majoirng in biology. "I think it's really cool. I can tell that he's a history buff just from listening to his songs. I never really thought about professors having hobbies outside of teaching."
Doobie "Doghouse" Wilson has had quite a few opening acts, but he said one really stood out. Lane had been playing for a couple of weeks at a club in Birmingham and one night, the open mic had a famous performer.
"The club promoter came up to me and said, 'Doobie, do you mind if we bumped you up one spot?'" Lane said. "So, I kind of knew something was going on," Lane said. "Sure enough, right before me Taylor Hicks got up on the stage. He put on one heck of a show. He'd jump up on the bar and wail on his harmonica. After he was finished I went up and played my set, so I jokingly say Taylor opened for me."
When it comes to his two names, Lane had only one thing to say.
"If we're talking about chemical engineering, you can call me Professor Lane," he said. "If we're talking about music, you can call me Doobie."