Bama Rocks: Potential bouldering site to undergo reconstruction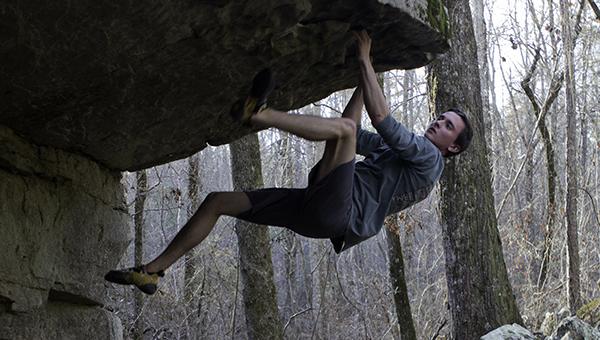 Tucked away off of U.S. Highway 11, down a long dirt road in Vance, Alabama, are 57.36 acres of an abandoned park named Bama 
Rock Gardens.
First opened before the 1950s as a family-owned roadside attraction, the overgrown park is a haven for 
biodiversity. The rock gardens are not only home to a plethora of plants and wildlife but also to a number of Boyles Sandstone rock structures.
"This location is unique enough to be a statewide attraction," said Becky Booker, who works in public relations at the Tuscaloosa Park and 
Recreation Authority.
The rare Boyles Sandstone, native to Bama Rock Gardens, has only been found at one other location in Alabama 
– Horsepens 40.
"This type sandstone is the same as that at the world famous Horsepens 40 climbing area near the community of Steele in north-central Alabama," said Gary Falls, chairman of the PARA Board of Directors. "Boyles Sandstone is excellent for climbing due to a higher percentage of quartz grains, making it very hard and less likely to crumble and break."
The durable sandstone and eroded nature of the rock formations at Bama Rock Gardens make it a potential wonderland for climbing and bouldering enthusiasts.
"Bouldering, is to many, a purer form of climbing in that a climber needs only climbing shoes, chalk [and] a crash pad," Falls said.
Bama Rock Gardens will be the only area for outdoor bouldering and rock climbing in Tuscaloosa County, should it be cleaned up.
The park shut down in the 1980s and was left virtually untouched until it came to the attention of Tuscaloosa County and PARA.
"The park was in really bad shape when we first started going out there," Zachary Heard, special projects manager for PARA, said. "The rooves on all the standing structures were completely caved in."
The rock gardens, still remaining in original form, feature a number of dilapidated structures, abandoned buildings, remnants of the original walkway and a series of fragmented bridges and stairs.
"The deteriorating structures need to be replaced with functional park facilities, invasive species need to be removed and there's a lot of general maintenance to be done," Heard said.
Although improvements have been made already to the infrastructure of the gardens and efforts to clean up the park are in progress, trash from locals still litters certain areas of the gardens.
"There is a lot of work to be done, we could put 50 people to work on a Saturday and complete 6 to 12 projects with a group that size," Heard said. "This could be anything from cleanup days, work days, you name it."
The park is officially closed, but many climbers and curious citizens come to boulder and explore the natural allure of Bama Rock Gardens. PARA asks those who do trespass not inhibit or destroy the existing state of wildlife.
In what PARA hopes will only be a matter of months, the gardens will open to the public, offering over 100 different bouldering opportunities and miles of walking trails.
In addition, PARA said it hopes in the future, the gardens can offer walking trails, bouldering, bathroom facilities and possibly camping.
"We want to develop this park correctly," Booker said. "That requires money and motivation from the community."
There are many ways that UA students will be able to utilize the park. Not only will the Gardens serve as a site for outdoor recreation, but as an educational site as well.
"When the park is officially open, there is great hope that the beautiful Boyles Sandstone rock formations at Bama Rock Garden Park will provide a close by outlet for outside climbing to [the] UA Rec Center and others in Tuscaloosa who love the adventure of climbing," Falls said.
In order to conserve and restore Bama Rock Gardens, private funding, donations and volunteer work will be necessary. Those interested can donate to PARA and specify that the donation is intended for Bama Rock Gardens.
"Plans will continue to grow as we get more interest and more funding," Heard said.
With proper funding and volunteer work, PARA could install a number of projects at Bama Rock Gardens, such as a Monarch Butterfly sanctuary and a Purple Martin home – a type of swallow that eats mosquitoes, therefore reducing the mosquito population for park visitors.
"We could do incredible things out there," Heard said.
An earlier version of this article said Bama Rock Gardens is located near Interstate 11. The gardens are located near U.S. Highway 11. The Crimson White regrets this error and is happy to set the record straight.