Experimental film exhibition 'Seek You' explores Morse code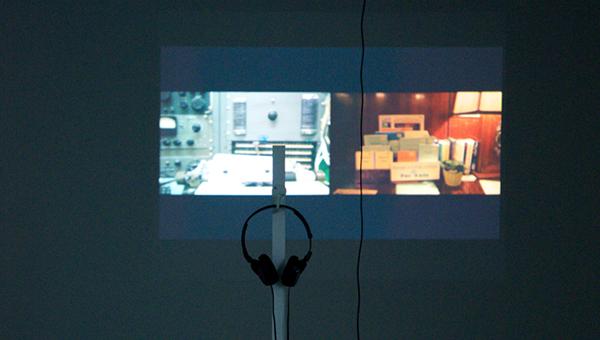 "Seek You" is an experimental film installation currently on display at the Sella-Granata Art Gallery, located in Woods Hall, Room 109. The title of the exhibit comes from a code in the Morse Code Community, CQ, which is also the title of one of the pieces in the exhibit.
"Seek You" is comprised of many different installations, ranging from images of the historic Marconi transmitting station to audio of an interview with an ice fisherman overlaid with images of Johnson trying ice fishing for herself.
"Hole," which documents Johnson's foray in ice fishing, is housed in a wooden box. The box is reminiscent of one an ice fisherman would use and helps draw the patron into 
Johnson's setting.
Most pieces in "Seek You" center around Morse code in some way. In her piece, "In to Sea," Johnson overlays an environmental report on the state of the ocean written in Morse code over 16 mm film of the sea, resulting in the ocean being encapsulated in dots 
and dashes.
"Morse code was the first digital technology, and when it was invented, people projected many utopian ideals onto it," Johnson said. "I am interested in the history of Morse code, but even more interested in what it means in this 2015."
In "If It Won't Hold Water It Won't Hold A Goat," Johnson follows the story of an elusive local legend called The Goat Man. The film is laced with Johnson playing with and feeding her own goats, combined with interviews with people who knew The Goat Man. Johnson said that "Hole" and "If It Won't Hold Water It Won't Hold A Goat" appropriate a documentary style narrative that signals an agenda of truth telling and demystification. She also said she is interested in Werner Herzog's thoughts on facts not necessarily constituting truth, but instead a search for an ecstasy 
of truth.
"I learned of the Goat Man from various individuals in the community: local goat farmers and historians. I then began my own search into who he was and what he meant to the people he met," Johnson said.
Johnson said the best part about filming these pieces is meeting people and hearing their thoughts about 
the world.
"It is hard to go back through all of the footage and audio recordings and pull out the gems," she said. 
"The possibilities feel endless."
The Sella-Granata Art Gallery will be hosting a gallery talk and reception for "Seek You" Thursday at 5 p.m.
"I think there are going to be many more people come view the exhibit once the reception happens," said Dabney Powell, an employee at the 
Sella-Granata Gallery.
At the core of "Seek You", however, is the desire to connect and communicate with other people, whether it be through Morse code, the oral histories of The Goat Man, or through finding common experiences through ice 
fishing, Johnson said.
"I think of all of these works as exploring the desire to connect and to communicate, to understand someone else, to take up their actions in order to find yourself," she said.