Offense overcomes deficit in second half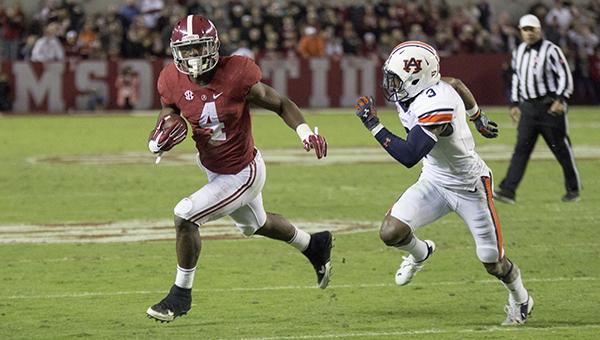 Saturday was an offensive shootout with Alabama crawling back into contention and an eventual 55-44 win over Auburn.
It took effort from every part of the offense to push past a first half performance where it was 1-of-4 on third down with possession of the ball for only 12 minutes.
"We didn't play very well in the first half and didn't start out well in the second half, but we just kept grinding," Alabama coach Nick Saban said. "We started making some plays on offense and got the momentum of the game back. We started playing better on defense in the third and fourth quarters and came out with what was a tremendous come-from-behind win for our team."
Running back T.J. Yeldon didn't get the spotlight. That went to wide receiver Amari Cooper and his 224-yard performance.
Yeldon took on a smaller role but comfortably led the team in rushing yards and rushing touchdowns.
At the half, Yeldon averaged 7.4 yards per carry and notched two touchdowns. He had 59 yards rushing.
By the end of the game, he had 127 net yards rushing and 140 all-purpose yards. Alabama's run game accounted for four of the Crimson Tide's eight touchdowns. Running back Derrick Henry ran in Alabama's last score, a 25-yard touchdown late in the fourth quarter. 
Alabama went into the half trailing 26-21 and after receiving the ball to start the second half, promptly turned the ball over two plays later. It was quarterback Blake Sims' third pick of the game. Auburn turned it into a touchdown drive.
"I didn't have a very good first half," Sims said. "We came into halftime and the team said, 'It's okay Blake, keep playing, we are behind you 100 percent.' They rallied behind me, and the receivers got open. The offensive line did a great job blocking, I just did what I had to do and get the ball to the playmakers and we won the game."
It helped that Alabama was willing to take chances. 
Yeldon punched in a one-yard score on fourth-and-goal in the second quarter.
In the third quarter on fourth-and-three, Sims got the first down on a 3-yard pass to DeAndrew White. On the next play, Sims connected with Cooper for a 39-yard touchdown pass.
"I don't think it was do-or-die," Saban said. "I thought we could play field position. One of the things that comes into my mind when we make those kind of decisions is if we were playing really, really well on defense, I probably wouldn't have made that decision. But the fact is, I thought we needed to score to change the momentum of the game – you have to take some chances. That was one that paid off for us, and I think it did change the game. I think it was a really big play for us."