UA secures win from LSU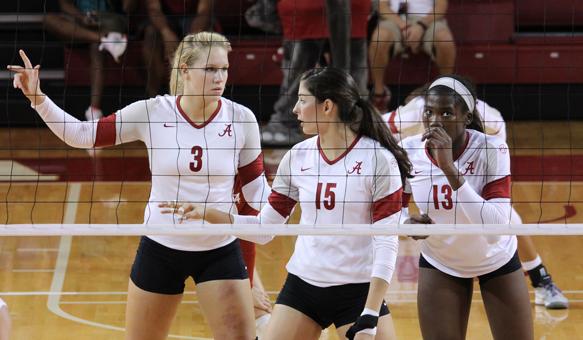 Coach Ed Allen said the game was a great test for the young team and a lesson in executing skills and efficiency in an emotionally charged match.
"There was a great effort," Allen said. "For the most part, a game plan was executed pretty well. There were some breakdowns in that game plan, which is expected when you're talking about young players who are learning to play at this level, and you play in a match that has that much emotion."
After Alabama won the first set, LSU opened the second set on top, leading the Crimson Tide 15-10 at Alabama's first timeout of the set. A three-point Alabama run pulled the Crimson Tide within two points of the Tigers. LSU ultimately took the set 25-22, tying 
the match.
The third set went in favor of the Crimson Tide 25-21, giving Alabama a 2-1 set lead. The Tigers made the Alabama team work for its fourth set victory, stripping the Crimson Tide of six match points and earning multiple set points of their own before Alabama closed on the seventh, securing the set 35-33 and the match.
While redshirt sophomore Krystal Rivers led the team in kills, knocking in 26, junior Bruna Evangelista finished the match with a .409 hitting percentage and 11 kills of her own. It was Evangelista's first home SEC match with the Crimson Tide after transferring to join the team this year.
"Everyone told me it was great to play here for the crowd, but I didn't know what to expect," Evangelista said.