Alabama quarterback competition continues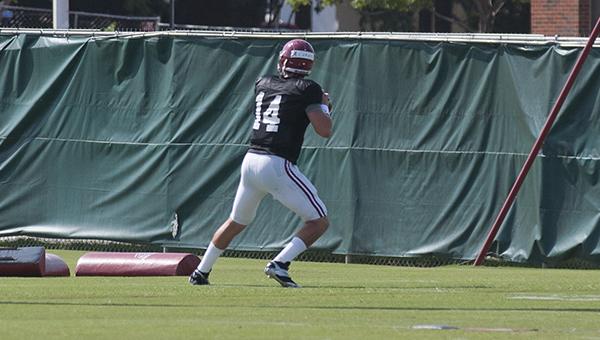 Two days after Alabama beat West Virginia 33-23 in its season-opening game, Alabama head coach Nick Saban addressed the quarterback situation and announced injuries to two starters.
Saban announced that both Blake Sims and Jake Coker are likely to play against Florida Atlantic.
"In some way we will probably try to play both quarterbacks in this game. I don't know how, but when I figure it out I am probably not going to tell you," he said while smiling.
Sims started the game against West Virginia and played all but a couple of snaps. He finished the game with 250 yards and an interception, while Coker only saw playing time towards the end of the game as he came in to run the clock down.
"I still don't hesitate to say there's a quarterback competition," Saban said.
Saban updates injuries
Saban also announced that senior defensive back Jarrick Williams, who started at the star position, will miss at least four weeks with a fractured foot. He also announced that senior wide receiver DeAndrew White will miss at least two weeks with a shoulder injury. Williams was able to finish the game Saturday while White could be seen on the sideline in a sling.
Wide receiver Chris Black replaced White on Saturday while Geno Smith and Maurice Smith are listed as back-ups to Williams.
Saban addresses secondary issues
The secondary seemed to be one of the bigger problems for Alabama after it gave up 365 passing yards to Clint Trickett and the Mountaineers. He addressed the secondary and the issues on defense.
"There were several plays where the guy was in position, but he did not play the ball," Saban said. "That is not what he is supposed to do, he is supposed to play the ball."
He said it was a combination of both physical errors and mental errors in coverage that caused West Virginia to have some big plays.
"It is not one particular thing," he said. "Most of it was created not by lack of knowledge or inability but by confusion."
Practice notes:
-The team practiced outside in shells and shorts.
-Dillon Lee was once again with the inside linebackers.
-Despite not starting the game at right guard, Alphonse Taylor took first team reps their during practice.
-Trey DePriest returned to practice after sitting out the West Virginia game due to an NCAA infraction.