BREAKING: Dean of students resigns after pictures of past tweets surface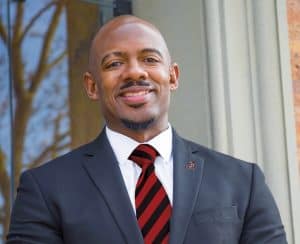 Jamie R. Riley, the University of Alabama's assistant vice president and dean of students, resigned from his position on Thursday after less than seven months on the job, UA officials confirmed. 
His resignation comes a day after Breitbart News published an article detailing images of past tweets from Riley, in which he criticized the American flag and made a connection between police and racism.
Jackson Fuentes, press secretary for the UA Student Government Association, confirmed at 4:15 p.m. that Riley is no longer working at the University. 
"For us right now, basically all I can tell you is that the University and Dr. Riley have mutually agreed to part ways," Fuentes said. "So yeah, that's true, and we do wish him the best." 
In an email at 5:03 p.m., assistant director of the Division of Strategic Communications Chris Bryant released an official statement on behalf of the University confirming Riley's resignation. 
"Dr. Jamie Riley has resigned his position at The University of Alabama by mutual agreement," Bryant said in the email. "Neither party will have any further comments."
Breitbart News has a reputation for being an ultra-conservative news, opinion and commentary website. The article reads that the author reached out to the University last week to receive a comment on Riley's past tweets but that a statement was not given. The article also says Riley's Twitter account appeared as private on Friday morning so only his followers could view his account.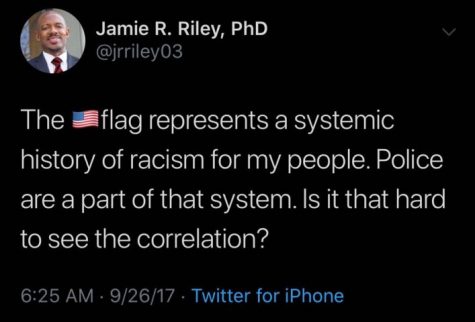 "The [American flag emoji] flag represents a systemic history of racism for my people," Riley wrote in the tweet. "Police are a part of that system. Is it that hard to see the correlation?"
In a separate image of a tweet in October 2017, Riley said white people have "0 opinion" on racism because white people cannot experience racism. 
"I'm baffled about how the first thing white people say is, 'That's not racist!' when they can't even experience racism," Riley wrote in the tweet. "You have 0 opinion!"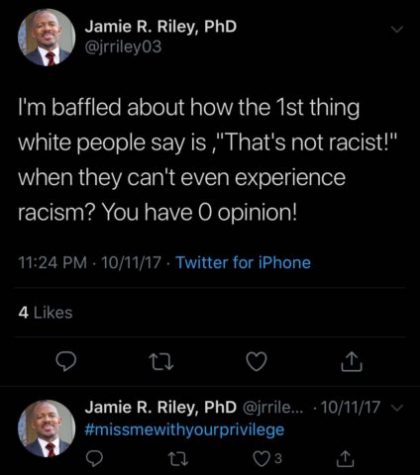 Under the previous tweet, Riley sent a hashtag that read "#missmewithyourprivilege." Later, an image of a 2016 tweet from Riley shows him questioning the motive of making movies about slavery.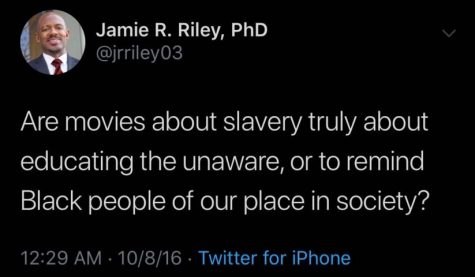 "Are movies about slavery truly about educating the unaware, or to remind Black people of our place in society," Riley wrote. 
Riley was named to the position on Dec. 13, 2018 after a national search and he began serving on Feb. 25, 2019. Before gaining the position at the University of Alabama, Riley served as the executive director and chief operating officer of Alpha Phi Alpha Fraternity, Inc. He also served in student affairs and diversity and inclusion roles at institutions including Johns Hopkins University, The University of California-Berkeley and Morehouse College. 
As of Thursday, Riley's Twitter account appears to have been deleted, thus The Crimson White was unable to confirm if the tweets were from his account. 
Fox News host Laura Ingraham tweeted the story this morning, gaining 252 replies, 253 retweets and over 430 likes as of Thursday evening.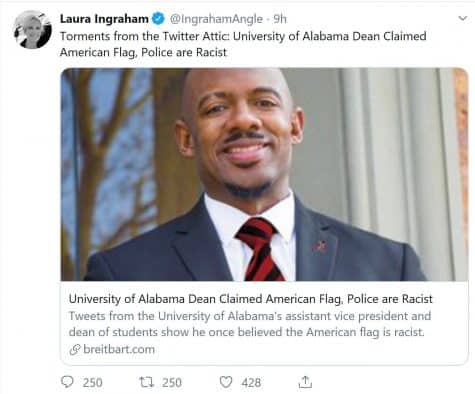 As of Thursday evening, Riley's UA contact information was removed from the UA dean of students webpage and his LinkedIn account was deactivated. 
Steven Hood, associate vice president of student life, stated in an email at 5:59 p.m. that "Dr. Jamie Riley has resigned his position at The University of Alabama by mutual agreement.  Neither the university or Dr. Riley will have any further comments."
---
The Crimson White submitted a Freedom of Information Act (FOIA) request to officials in the division of strategic communications on Thursday at 6:47 p.m. regarding any recent contracts or emails detailing Riley's resignation. This story will be updated as it develops. 
UPDATE Thursday, Sept. 5 at 9:15 p.m. Tweets from Riley's deleted Twitter account have been recovered, confirming that he did send the tweets mentioned in the Breitbart article.
This story was updated on Sept. 6 at 2 p.m.
---
UPDATE Friday, Sept. 6 at 5:04 p.m. Unite for Reproductive & Gender Equity (URGE) UA, a sexual and reproductive justice advocacy student organization at the University of Alabama, released a statement at 12:45 p.m. on Friday regarding the recent resignation of former assistant vice president and dean of students, Jamie R. Riley.
"As URGE UA is affiliated with the University of Alabama, we would like to make a statement on a recent occurrence at the University. 
This Thursday, Sept. 5, Dr. Jamie R. Riley, the University of Alabama's Assistant Vice President and Dean of Students for the past six months, resigned from his position. This decision is said to have been "mutually agreed" upon by both Dr. Riley and the University. Dr. Riley's resignation follows the surface of past Tweets concerning systematic racism in America. 
URGE UA is deeply saddened to see Dr. Riley leave the University, as he was always extremely supportive of our mission every time he interacted with our organization. His views and experience as a black man working at a predominantly white institution were incredibly valuable to the University of Alabama; we are extremely disappointed that the University led him to feel that resigning was the best decision.
The University of Alabama has shown various times that it encourages its students and faculty to exercise their freedom of speech; however, this situation seems to be a contradiction to those occurrences. 
URGE UA encourages students to speak out on their opinions and not back down in the face of opposition; we do not stand for injustice, and we will not be silent about any sort of wrongdoing at UA. 
URGE UA wishes Dr. Riley the best in all his future endeavors and encourages him to not stop speaking out on his beliefs."