Duke's Cutcliffe has magic touch to revive offenses
Duke head coach David Cutcliffe has a knack for putting quarterbacks in the NFL. Everything the 64-year-old University of Alabama alum touches turns to gold.
When Blue Devils quarterback Daniel Jones was drafted sixth overall by the New York Giants in April, he became the seventh Cutcliffe product to reach the pinnacle of the sport — and the fourth to be a top-six pick.
"I've always thought that he's one of the best quarterback coaches in the country and obviously his track record has proven that," Alabama coach Nick Saban said. "I think he has that reputation and so I think a lot of players are interested in playing for him, and he's done a fabulous job of developing those players."
Cutcliffe's reputation as a quarterback whisperer started in 1992 when he was Tennessee's passing game coordinator and quarterbacks coach. The following year he was promoted to offensive coordinator, and second-year starter Heath Shuler's stats skyrocketed. The Vols scored the second-most points per game in the country and Shuler was selected third in the 1994 NFL Draft.

The next year, the Vols' top two quarterbacks were injured in the first four weeks of the season. That allowed freshman Peyton Manning to start the final eight games, go 7-1 and complete nearly 62% of his passes. Tennessee became a consistent top-10 program and Manning finished in the top eight of the Heisman Trophy voting in each of the next three years. Manning was selected No. 1 in the 1998 NFL Draft and went on to win two Super Bowls and five NFL MVP Awards. Tennessee won a national championship in 1998 and Cutcliffe's work with the Vols' offense earned him his first head coaching job at Ole Miss in 1999.
"[Cutcliffe's system] also gives the players at all positions on offense to have a chance to be successful," Saban said. "But it makes the quarterback's efficiency always have the consistency that everyone always looks for in a quarterback because the system allows them to make quick decisions and get the ball out of their hands, and it's very sound and they're very well coached in being able to do that. I think all those things contribute to the success of the quarterback as well as their offense."
The Rebels averaged just over 21 points per game over the three years before Cutcliffe arrived in Oxford, but their fortunes soon began to change. The offense saw steady improvement, even becoming a top-10 offense in 2001 under sophomore quarterback Eli Manning.
Manning threw for over 10,000 yards in his career and led Ole Miss to a No. 13 ranking in 2003, its highest year-end ranking since his father was the Rebels quarterback in 1969. Ole Miss reached four bowl games in a five-year span under Cutcliffe, a feat it had not achieved in over 30 years.
Manning was drafted No. 1 overall in 2004, six years after his brother. He too has won two Super Bowls.

Following his firing in 2004, Cutcliffe returned to Tennessee as offensive coordinator and quarterbacks coach in 2006 and 2007. A bottom-20 offense immediately jumped inside the top 40 for two years, and then immediately dropped to the bottom 10 again after Cutcliffe left to coach Duke.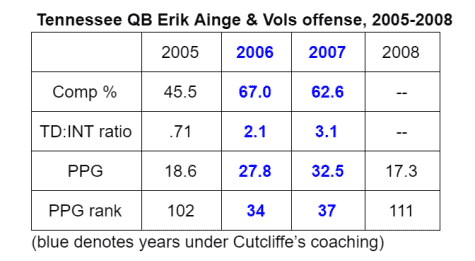 Duke was ranked in the bottom eight in points per game from 2004 to 2007. Its No. 101 ranking in 2008, Cutcliffe's first season, tied its highest since 1999, and it continued an upward trajectory for several years. There have been some anomalies like 2016, but his Blue Devils teams have consistently been around the FBS average for offense.(bold denotes years under Cutcliffe's coaching)

Jones, a three-year starter, was chosen No. 6 in April by the same team that selected Eli Manning in 2004: the New York Giants. Now redshirt senior Quentin Harris takes the reins and will make his first career start against Alabama on Saturday.
"It seems like they try to get on the edges a lot, they have a really athletic quarterback, athletic running backs, very fast, have that fast-twitch and all that," Alabama linebacker Dylan Moses said. "Just going through practice and against our scout (team), it just seemed like they were trying to go on the edge. And that's what I would do if I was playing against us, being that we have so much beef in the middle."