Dispatches From Abroad: Exploring tourism in Singapore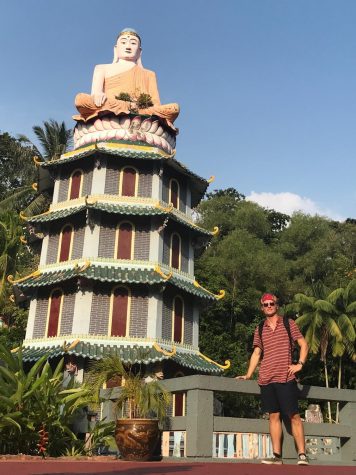 While I will miss 'Bama, the Tide's revenge season and dining dollars, I decided to forego it for a semester studying and traveling in and around Thailand. In Singapore, the food I tasted, places I saw and people I met immediately reassured me I had made the right decision.
From the perspective of a traveler wanting to accomplish much in a short time, this city, which doubles as its own country, offers sightseeing and experience quintessence. Its excellent public transportation, formidably ornate infrastructure and blend of cultures make it a perfect place for a visitor.
Its residents benefit from a clean and safe city, too, of course, but some say they pay a price for their government's favor of the booming tourism industry.
As one of those tourists, in just over two days, I:
went to Chinese Buddhist and Hindu temples,
walked through a jungle on a bridge,
saw fountain and electric-tree light-and-sound shows,
ate authentic cuisine for cheap in Little India and Chinatown,
walked the ten stages in the Confucianist Courts of Hell, and
saw it all from above atop the Marina Bay Sands Hotel.
If a $23 beer or two had fit in my budget, I would have checked out a nightlife defined by flashing lights on skyscraper villas and indoor theme park attractions, too. The spirit of Clarke Quay and the skyscrapers was inviting. Although as a 21- year-old male, I might have been too young, at least for one club with a minimum age of 23 for men and 21 for women, anyway.
Singapore's architecture astounded me. The Gardens by the Bay included two award-winning greenhouse domes and a park of 18 man-made "super trees" between 82 and 160 feet tall and a walkable skyway 72 feet high connecting a few of them. With 700 species making up over 158,000 plants in the area, according to its website, this is one of the ways the city's structures blend nature and development.
All of this next to the bay and underneath a Ferris wheel, and a skyline that most prominently included what reminded of a Star Wars ship looming (the Sands Hotel).
I credit both the fact that I took this trip alone as well as public transportation for how much I got to do in so short a time. My 3-day all-access public transportation pass for $38 SGD ($27.40 USD) would take me anywhere in town in fifteen minutes or less. During busy parts of the day, everyone still fit onto the trains, and even when I would miss one, the next would arrive within four minutes. It ran directly into the airport, too.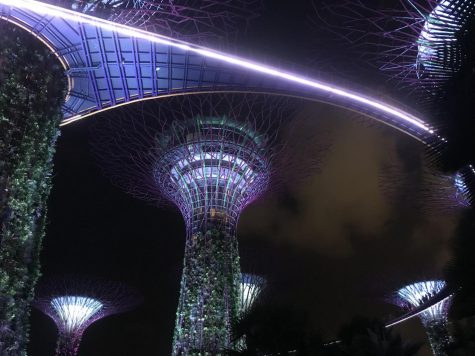 This trip kicked off four months for me in Southeast Asia, and I did not have much money to begin with, so I stuck mostly to the free attractions. This included places like the Botanic Gardens and Haw Par Villa, whose beauty and enchantment cost me nothing. In my three days, I spent $200 SGD, or about $144 USD.
I stayed in a hostel in Little India my first two nights, which I remember best by the chicken tikka I ate with green chutney when I came home exhausted late my first night. People spoke Tamil, Mandarin Chinese, Malay, Korean and English among other languages there.
There at the Campbell Inn is where I met Harry Thind, an English language professor at the University of Victoria in British Columbia. Harry, who grew up and lived in Singapore for thirty years, made it a point to give me a perspective into, as he put it, "what they don't want you to see."
"I'm considered a dissident," he said in questioning the government's priorities. "It's a one-party-rules system for the past 60 years."
Topically, he mentioned the government's recent decision to raise the retirement age from 62 to 65. This, according to Dollars and Sense, does not necessarily mean Singapore workers have to work until that age, but Thind said his issues concern the lack of input that residents have on such decisions.
Aside from politics, he said his concerns grow from his interactions with residents each time he visits, which is every five years. A somberness came into his tone when he talked about seeing "the real Singapore," or images of senior citizens who once were required to serve in the army, dumpster diving.
He also called the city materialistic for building Marina Bay on what used to be ocean and for its citizens placing too much value in having lavish lifestyles. He said some end up regularly working 16-hour days.
As Harry and I talked, a financial consultant named Abi Vemuri from India chimed in. A Singapore company had recently offered him a job, but he said he would not be accepting it. He said he enjoyed the luxurious experience of his official visit and didn't mind the tourism in the city but that he preferred a country where he could control his own assets more freely.
For example, he explained that he would not be able to own a house before age 35 or a home before marriage. In India, he owns three.
"Why should I leave that freedom?" he said, grinning a little.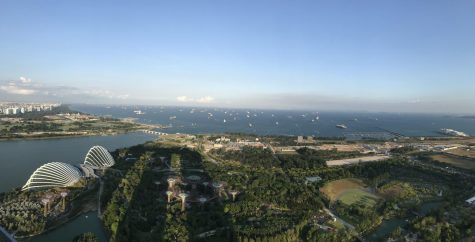 Later that night, I met a taxi driver named Neil for whom, as a resident, these concerns carry more weight. When I asked him if he liked living in Singapore, he said the high taxes can make it tough, and he did not feel as though he received an appropriate return. Neil said he was a veteran, as is normal for Singaporean men.
All in all, I would recommend solo or group travel to Singapore to anybody on any budget. Go for the color, the grandeur and the awe that it stirs within. I always felt safe, which aligned with travelsafe-abroad.com's description of it as "probably the safest country in Asia to travel to." Get a tourist public transportation pass and go sightseeing until physically exhausted.
Despite my fond memories, though, it is my conversations with locals and the disenchanted looks on their faces that have remained most prevalently on my mind about the country.
Next stop: Chiang Mai, Thailand, which translates to "New City." Founded in 1296, it is where I will study Buddhism, social entrepreneurship and Thai culture until December.