Crowd gathers on Gallalee roof for Friday night stargazing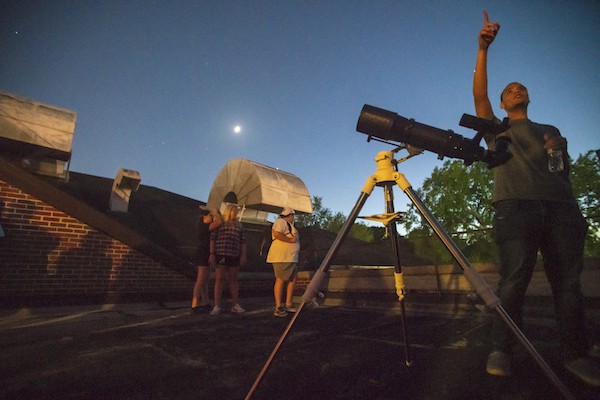 Four planets and the moon were on display at the Gallalee Hall observatory on Friday night, drawing a larger-than-typical crowd.
Attendees ascended the metal staircase leading to the domed observatory, where hosting professor Jimmy Irwin was standing by to answer questions and manage the University's 16-inch telescope. Throughout the evening, viewers had a chance to take a look at Venus, Saturn, Mars or Jupiter. Two smaller telescopes on the main roof were pointed at the moon.
"This is the closest I will get to NASA at a discount," said Jasmine James, a junior majoring in photography and history.
James explained that, despite her inexperience with the technical details of astronomy, the Public Night event was interesting and accessible. James left after one look in the telescope with plans to come back in an hour.
"It's too hot to wait in that line, but I did see Mars, and that made me happy," James said.
Fifteen minutes into the event, there were people lining the observatory steps and wrapped around one side of the roof. Irwin estimated that nearly 200 people attended the event, adding that he had never seen so large a crowd at a Public Night before.
"The roof was packed," said Codey Neises, a freshman majoring in aerospace engineering. "Everyone seemed to be enjoying themselves. There was a great atmosphere and a lot of parents with kids. The kids were so happy to see the planets."
It wasn't only children who were excited about what they saw through the telescope. Several UA students described viewing the planets as something they have always wanted to do.
"I have never seen anything like it," said Logan Long, a freshman majoring in computer science and management information systems. "This was my first time looking through a telescope that big."
Student reactions were largely positive, with a few already gearing up to attend the next event. Long said he would definitely come again, adding the moon viewing was his favorite part of the evening. Neisis said that viewing Saturn was "especially cool."
"First there's the void, a clear black nothingness and then a fiery red orb," James said, describing her view of Mars from the observatory's telescope.
James added that she had always had an interest in astrology, and the Public Night stood out to her for that reason. James mentioned she was already excited to come back.
Irwin later explained that the large crowd is a perfect example of why the department hosts Public Nights. The department is able to satisfy the public's love for astronomy by offering free telescope viewings and hosting astronomers on campus. Public Nights, Irwin said, have been occurring since the Halley's comet viewing in 1986, which won't happen again until 2061.
Public nights are held by the Astronomy Group within the department of physics & astronomy. The next public night will be held Oct. 5 on the Gallalee Hall rooftop. Hosted by Murray Silverstone, a professor in the department of physics & astronomy, the event will focus on Mars and Saturn.