UA JCM professor to direct "Queen Sugar" episode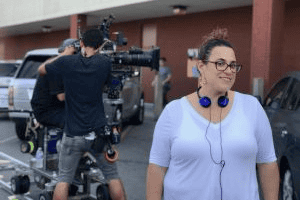 Rachel Raimist of The University of Alabama's Department of Journalism and Creative Media was invited to direct an episode of "Queen Sugar," a television series on the Oprah Winfrey Network (OWN).
Ava DuVernay, director of blockbuster hits such as "Selma, "13th" and "A Wrinkle in Time," invited Raimist to direct the episode. With Oprah Winfrey as its executive producer, the show is based on a novel by Natalie Baszile and premiered in September 2016.
"I have made independent films and documentaries, but for a long time I thought that breaking into television might not be possible," Raimist said.
Shot in New Orleans, Louisiana, "Queen Sugar" features a family that moves to Louisiana after their father's death. The inheritance left to the three siblings – Nova Bordelon (played by Rutina Wesley), Charley Bordelon (Dawn-Lyen Gardner) and Ralph Angel (Kofi Siriboe) – is a large sugarcane farm. It is up to them to put aside their complex, adult lives and work together to keep the farm from failing.
So far in its 3-season life, the show's episodes have all been directed by women. Raimist will direct the 311th episode, titled "Your Passages Have Been Paid." From this, Raimist now qualifies to be a member of the Directors Guild of America (DGA), an organization comprised of 17,000 members internationally. Women make up almost a quarter of DGA's total membership, which, to many female production members, is an ongoing issue in the film industry.
"So many of us knocked on countless doors trying to wedge our way into TV directing work only to get every door shut in our face," Kat Candler, showrunner for "Queen Sugar," said. "'Come back when you have an episode under your belt,' they'd say. But not until Ava [DuVernay] ripped the hinges off those doors, built her own house and invited us all in did things in this industry start shifting. She's revolutionary in that way."
Raimist says being a woman of color can make "breaking into" television especially difficult, but she is overwhelmed with emotions of gratitude and pride for the opportunity.
"To be called by Academy Award winning filmmaker Ava DuVernay and be invited to direct an episode of her show is a career defining moment for me," Raimist said.
Raimist directed the episode in New Orleans, Louisiana in June. The episode will appear on OWN, though a specific air date is not yet known.