Spillers wins 8,602 votes to secure SGA presidency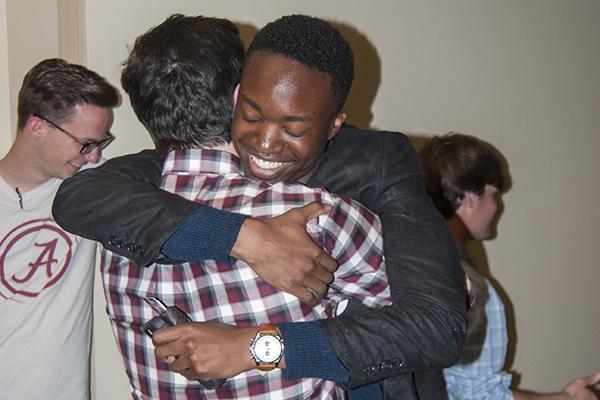 After two failed SGA elections in previous years, Spillers was elected president of the SGA on 
Tuesday night.
A campaign member was alerted of the victory through a GroupMe message that was sent out after Spillers, a junior majoring in business management from Pelham, Alabama, got the call while at Chipotle. Tuomey Hall, where Spillers' campaign gathered, immediately erupted in cheers. Campaign manager Mark Hammontree called Spillers to confirm the news.
Spillers joined his supporters several minutes later with high fives and hugs all around.
"We did it," Spillers said. "It was a collective effort. Thank you. We all 
did it."
Spillers won the election with 8,602 votes, 2,273 more than his opponent, Stephen Keller.
He said his work starts tomorrow, and he will be appointing team members and organizing their next plan of action. He said he sees his election as a collaboration, not an 
individual victory.
"I have to appoint my team and get all of this together, because this is a team effort," Spillers said. "This is something that was a team effort going in and it's going to be a team effort going throughout this entire year. I need to have the best around me to lead me and to give me experience that 
I lack."
Hammontree said he feels Spillers' election is a sign that this campus has been poised for something great for a long time, and tonight was a huge 
step forward.
Mary Lieb, a junior majoring in advertising and communications studies, said she was inspired by Spillers' passion to unite people when she met him during her freshman year. She said she has embraced his ability to make the people around him thrive.
"He has worked tirelessly the past three years to foster relationships with people all across campus," Lieb said.
Lieb mentioned the concerns some had about Spillers' lack of official SGA executive positions. She said the SGA is not run by one person, but by a team of people, and she sees Spillers' election as a breath of fresh air that will act to question some of the long-standing behaviors of this campus and make it more inclusive.
Spencer Cornelius, a junior majoring in communications studies, said Spillers' election caused him to think a lot about the slaves that built this university and this country. He said there will never be any progress until people understand how history and the 
present are linked.
"To see a black man who deserves to be president ascend to one of the highest student positions at this university felt unreal," Cornelius said.
Cornelius said he credits Spillers' infectious personality for not letting him get pessimistic about the campaign. He said he never personally ran for office because he never thought he could win, but Spillers' victorious 
campaign is an inspiration to him.
"Elliot is a symbol. He represents what is possible for people who have historically been treated like second class citizens," Cornelius said.
Spillers said he is honored to be elected, and sees it as a blessing. He credits his victory to the strength 
in diversity.
"My team is comprised of Greek leaders, Honors College, independent leaders across campus, athletes, everyone is represented, which is exactly what I want to have the SGA seen as going 
forward," he said.
Spillers said he hopes to continue his relationship with Keller.
"I told him that he ran an amazing campaign and that it was an honor and a privilege to do it a second time with him again," Spillers said. "We plan to meet up soon to talk about how we will work together and better campus."
Sparkling cider and chips were out, but Spillers was already thinking about the future, organizing his team while the rest of the crowd celebrated.
Across campus, the Keller campaign received bad news.
Keller received a phone call at 7:33 p.m. from Kelli Knox-Hall, advisor to the SGA Elections Board, informing him that he had lost the election.
"We lost," Keller, a junior majoring in finance and economics, said to a dining room full of anxious supporters at the Delta Kappa Epsilon 
fraternity house.
After a few minutes of silence, both Keller and his public relations director, Mackenzie Brown, exited the room. Members of DKE and various Keller campaign supporters continued to hover in the lobby of the building and at tables around the room.
Several minutes later, Keller returned to share thanks, hugs and handshakes with his supporters.
The Keller campaign refused to comment at the time of the announcement, but reached out to The Crimson White at 8:18 p.m. through a texted statement from Brown.
"First and foremost I'd like to congratulate my opponent on an excellent campaign and his victory this evening," Keller's statement read. "I'd like to also thank my friends and campaign staff for their dedication and hard work during this process. Thank you to everyone who supported and voted for me. I look forward to another great year at the Capstone and once again thank you all for your support."
Keller currently serves as vice president of student affairs for SGA for the 2014-2015 academic year, but upon his defeat in this election, he will not hold an SGA position next year.
This year's SGA elections showed a nearly 11 percent increase in voter turnout from the 2014 elections, with a total of 14,931 votes cast, 4,655 more than in 2014. With the University's total undergraduate enrollment for the 2014-2015 academic year at 36,155, this means that 41.3 percent of students voted in this year's election, up from last year's 30.74 percent. Additionally, this represents nearly a 61 percent increase in voter turnout from the 2013 SGA presidential election.
Andrew Parks, a senior majoring in political science and the director of political advocacy for the United Alabama Project, an organization that aims to increase political participation among the student body, said the increase is good news for 
the University.
"We at the United Alabama Project are absolutely delighted and very proud to see the significant increase in voter turnout compared to that of previous years," he said. "We believe this signifies the substantial progress made on campus in fighting voter apathy this year, and adds to an already historic occasion. We look forward to continuing our work ensuring that all students find equal representation in our Student Government Association, and have a substantive opportunity for involvement at The University of Alabama – a direction in which an incredible first step has been 
taken tonight."