Power of Pink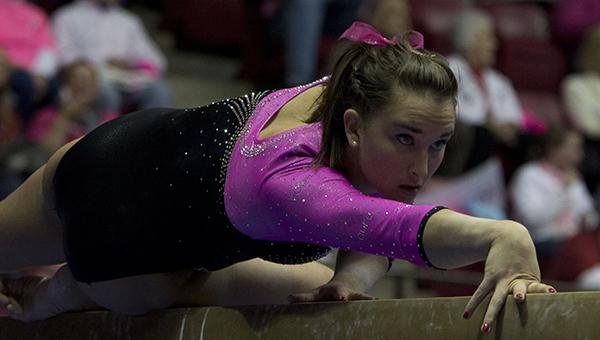 For 36 years, coach Sarah Patterson was the face of the Alabama gymnastics team. Her 1,006 wins, 43 postseason championships and six national championships with the Crimson Tide, as well as her philanthropic endeavors, made her a celebrity.
Patterson retired in July 2014 and will be honored Friday night, along with her husband David, for their contributions to the Alabama gymnastics program as the team hosts No. 12 Boise State for its annual Power of Pink meet, an event Patterson herself began in her time with the team.
Over the last decade, Patterson's Power of Pink cause, which began in 2005 and is centered in breast cancer awareness and fundraising, has raised more than $1.45 million for the DCH breast cancer fund.
"To have a loved one, whether it's immediate family or close friend, that have been affected, you realize that, keep things in perspective," coach Dana Duckworth said. "Life can change very quickly, and that we get to do gymnastics and flip and learn through sport, but in the big picture of life, the fighters are trying to find a way to fight for their life. Then you realize, yeah, I've got it pretty good, as far as what I get to do, and that we can give back to others and help them fight as well."
To celebrate the cause, gymnasts will escort a survivor out onto the floor in pre-meet activities. Aja Sims will escort her aunt, Vernell Thomas, who was began her battle with breast cancer in 2007.
"It was definitely tough," Sims said. "I remember that she was in the hospital a lot, and it was scary at times and we just prayed through it a lot. We are a huge religious family and we just knew that God was on our side and He helped us through it."
Sims said not only is she excited to celebrate her aunt's victory over cancer and have her watching in the stands for the first time since Sims was younger, but she enjoys spreading awareness about the disease that touches so many.
"We get to support a great awareness factor and we're just bringing love to show that we're more than a team of just classes that does flips," she said. "It's just a big awareness that we can bring to the whole state."
In addition to the lasting tradition of Power of Pink that Patterson created, she and David also formed the high standards of the gymnastics program. For that, Lauren Beers said she is excited to see the two receive recognition at Friday's meet.
"It's awesome for them to get honored," Beers said. "They have built this program into what it is today, obviously. Sarah was such an amazing coach and David right there beside her, but I'm excited to see them honored for all of the hard work they put in over the past 30-some years, and I know that they're really enjoying this different side of the gymnastics world, but they're still involved and love seeing them at the meets."
With the Patterson's watching from the stands and offering support, Duckworth took the reins of the program and led the team to a sixth-place national ranking this season.
The Patterson's legacy lives within Duckworth, she said, and she learned from the two that excellence is a choice. As she seeks excellence with her own team, Duckworth said Patterson has become a mentor through the transition.
"She has been there when I needed her, " Duckworth said. "She hasn't tried to overstep or over coach, or over mentor, and all I can say is that they have handled this transition as beautifully as one can handle. The great part is I know they're there if I need to reach out to them. "
Most importantly, she said, the Patterson's are always a welcome presence in the program.
"This is the house they built," Duckworth said. "So they're welcome in their home any day."