Bruna Evangelista finds home in Tuscaloosa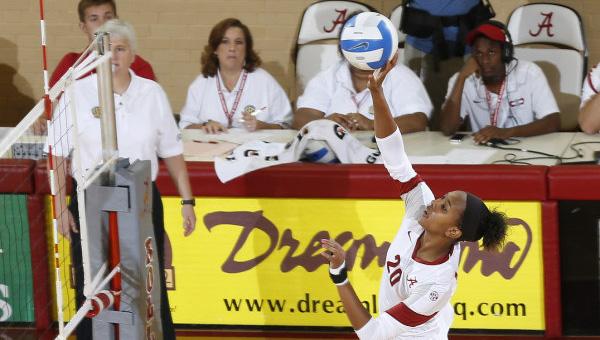 The 6-foot-1 middle blocker hails from Caete, Brazil, and made a stop at Blinn College in Brenham, Texas, before landing in Tuscaloosa, where she has consistently posted top numbers for her position in her first season with the Crimson Tide.
While walking her younger sister to school at age 12, Evangelista said she was stopped by a woman who asked her if she had ever thought of playing volleyball due to her height. The next day, Evangelista had her first tryout.
"I've been playing volleyball since then," Evangelista said. "I never played another sport. I love it."
Evangelista continued with the sport, never imagining that it would lead her to the U.S., instead planning to play professionally in Brazil. A torn ACL in 2011 would derail her from that path as she struggled to recover and was cut from the professional team where she intended to play.
More twists emerged on her path here, as Evangelista traveled to Texas to play for Blinn, but ultimately made the switch to Alabama, a place she said has become home for her.
Coach Ed Allen said he has seen much progress during her time at Alabama, despite lingering effects of her injuries.
"She's a kid who is battling some injury issues that she's brought in here and trying to be tough and get through all of that," Allen said. "She's a kid who is understanding the game more and what we want of her role within the team, somebody who has, at times, been one of our most 
efficient hitters."
Evangelista and the team will take on Arkansas Sunday at 1 p.m. in Foster Auditorium.