Women's tennis team starts play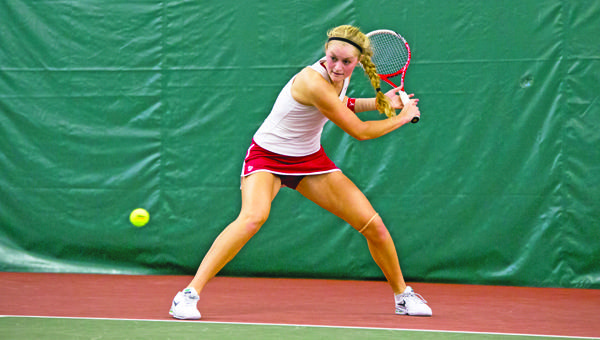 For junior Maya Jansen and the rest of the UA women's tennis team, this weekend marks a new season, a fresh start and a clean slate.
"We had a great year last year, but we always talk about at the start of the season that last year was last year," she said. "It's 0-0 and it's a new team. Our main focus is to keep improving and be the best that this team can be this year, not so much focusing 
on last year."
This last year, however, is one that will never be forgotten. Jansen and her doubles partner Erin Routliffe teamed up to claim the title of NCAA doubles national champions, dominating their University of Georgia opponents in straight sets, allowing the Bulldogs only a single game while winning the first 
national championship for the Alabama women's tennis program.
Though Jansen said it's important to focus on this upcoming year, she said the feeling of winning a national championship is one that she won't forget, and one she hopes her teammates will be able to experience 
as well.
"We now know what it takes, so we're really going to try to implement that in our team," Jansen said. "We know the feeling of it and we know how great it felt, so it would be even better for our team to win it. That's what we're going to try to do – have a team winning environment."
Members of the Crimson Tide will split up Friday to compete in two tournaments to kick off the fall, the Baylor HEB Kickoff in Waco, Texas, and the Duke Fab Four Invite in Cary, North Carolina. Both tournaments will span the weekend.
Baylor will play host to the 2015 NCAA Tournament this season. A big reason coach Jenny Mainz chose to participate in the tournament, she said, is to get a preview of the facilities and possibly "an omen of things to come."
She reiterated Jansen's mantra – it's a new season and a clean start.
"We're not really concerned with what we did last year or yesterday. We've got to keep getting better," Mainz said. "We've got to build in the fall and get our team chemistry together, get our games fine-tuned and get our doubles combinations and we've got to go to work. That's the bottom line. If we put one good day on top of another good day, on top of another good day, that will all take care 
of itself."