AD Mal Moore hospitalized for pulmonary problems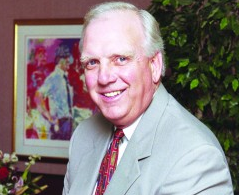 UA Athletic Director Mal Moore was hospitalized for heart problems for the second time in less than a year Wednesday. Moore was admitted to Brookwood Hospital in Birmingham, Ala., for tests and treatment regarding pulmonary problems, a UA official confirmed Wednesday. A UA spokeswoman said in a press release that he was scheduled to move to Duke University Medical Center Wednesday night for follow-up tests.
Last August, Moore was hospitalized in DCH Regional Medical Center in Tuscaloosa for an irregular heartbeat and was released two days later. His physician, Dr. James R. Robinson, said the August hospitalization was a "precautionary measure."
The Tuscaloosa News first reported the hospitalization.
Moore, 73, became athleticdirector in 1999. He was a quarterback for legendary head coach Paul "Bear" Bryant, and was an assistant coach from 1965-1982. He coached quarterbacks under head coach Gene Stallings from 1990-1993. He was named to the State of Alabama Sports Hall of Fame in 2011.
Moore has also overseen multiple facility upgrades at the University, most recently a $9 million strength and conditioning facility for the football team. The football building was named after Moore in 2007.
The Crimson White will update this story as more information becomes available.