United Campus Workers of Alabama petitions for affordable health care for adjuncts, grad students at UA
On June 8, members of the United Campus Workers of Alabama delivered a petition to the University of Alabama System board of trustees demanding that the University give better health care benefits to adjunct faculty and graduate student and part-time employees. 
UCW-AL, an organization that campaigns to improve wages, health care and the well-being of workers in the state's higher education systems, started in 2019 and began circulating the health care petition in April 2022.   
The petition, which garnered over 500 signatures when it was delivered, called for the reinstatement of affordable, subsidized access to the University's faculty and staff health care plan for all adjuncts and for graduate and part-time workers to receive it as well.  
The union also called for the University to conduct a health care assessment to ensure the needs of all employees are met, including mental health services. 
Regular faculty and staff are offered two medical plans through Blue Cross and Blue Shield of Alabama, the high-deductible health plan and the preferred provider organization plan, both of which may be used by the employee's family and differ in their premium costs and deductible amounts.  
The HDHP has a monthly premium of $57 for coverage for an employee or $234 for the employee and family. The PPO plan costs roughly twice that, at $116 for an employee only and $478 for an employee and family. 
Both plans' deductibles are more affordable than the nationwide average annual deductible of $1,763 as of 2022. The HDHP has an annual deductible for the University employee of $1,500, while the PPO has one of $400 per person in a family. 
Access for adjuncts 
Prior to the passage of the Affordable Care Act in 2010, all adjunct faculty were eligible for the University's regular employee health care plans. 
Adjunct faculty are defined by the University's faculty handbook as those faculty members appointed on a "temporary" and "non-renewable" contract to work full- or part-time for a specified period, after which there is "no right or expectation of employment." 
Currently, temporary employees, including adjunct faculty, are ineligible for some University benefits when hired, including UA health insurance, regardless of whether they work full or part time. 
UA Director of Communications Deidre Stalnaker declined to comment on why adjuncts are no longer eligible.  
However, according to a benefits FAQ, in compliance with Affordable Care Act regulations, the University does provide a health care plan to individuals who were previously ineligible and work 30 hours per week or 130 hours per month in a 12-month measurement period.  
Stalnaker said temporary employees, including faculty, staff and student workers, may get health insurance from the University in this way. 
Other SEC schools deem temporary employees eligible for health insurance. 
Louisiana State University's eligibility requirements state that an employee must work around 30 hours per week and be appointed for a duration of one semester or 120 days to be eligible. The University of South Carolina and the University of Georgia similarly allow temporary employees scheduled to work at least 30 hours per week to be eligible without requiring the 12-month measurement period like The University of Alabama does. 
"The refusal to guarantee quality affordable health insurance to adjuncts — who often perform the same labor as Full-time instructors despite not being categorized and compensated as such — hinders the university's personnel needs, reputation, and ability to retain employees," the petition stated. 
The University website contains a "benefits eligibility matrix" that explains further which employees are eligible for the medical plan.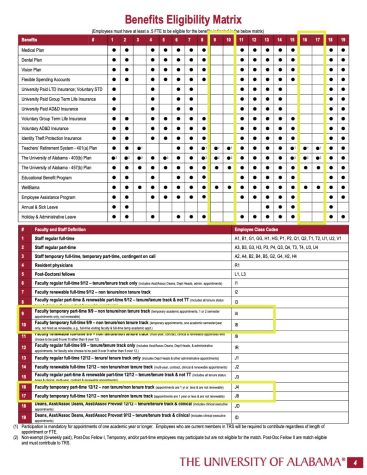 Affordability for students 
For graduate student workers, the main concern is obtaining more affordable health benefits.  
Students meeting certain criteria are eligible for a student health insurance plan that may also cover their family, but many find this coverage to fall short of many of their needs and have been left with high medical debts, according to the press release. 
With the plan, there is a $500 deductible per insured person per policy year and an $8,700 out-of-pocket maximum, but the plan for a single student cost $2,332 per year for the most recent plan year. 
By contrast, the most a regular University-insured employee may pay in premiums for a year is on the PPO plan, at $1,392 for twelve months of individual coverage. The PPO also has an individual deductible that is $100 lower than that of the student health plan. 
Student employee and regular employee plans differ even more in their out-of-pocket limits. 
While the annual limit for single coverage for the HDHP and PPO plans is $3,500 and $5,000, respectively, it is $8,700 per insured person on the student plan. 
"During the fall and spring semesters, graduate students with full-time graduate research or teaching assistantships generally work an average of 20 hours per week and are compensated with a tuition scholarship and payment of the student health insurance premium," Stalnaker said.  
Stalnaker said during academic breaks and summer terms only, the number of hours graduate students work per week can climb as high as 40.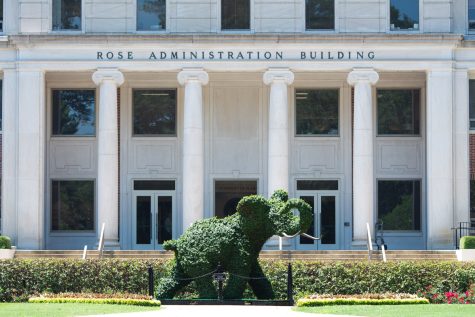 In an article, grad students and adjunct staff expressed their disappointment with the lackluster coverage they have received.  
"The fact is that it's run like a business when we need to value the humans who make the University actually function," said Erin Stender, a graduate teaching assistant who taught two sections of Intro to Women's Studies during the spring 2023 semester, in the article.  
Brett Shaw, an English instructor and UCW-AL member, said he has had undergraduate students who have seen "the raw end" of the University's health insurance system.  
"It can hammer them with high percentage payments if they need to use it for anything other than going to a minor visit to the [Student Health Center]," Shaw wrote.  
According to a summary brochure for the student health insurance plan, students lose some benefit coverage for services received at providers to which the Student Health Center does not recommend the students. 
He said his students' negative experiences make spreading information about best practices and how to avoid higher charges "incredibly useful" and something "our admittedly overworked and understaffed UA HR office should do a better job of to begin with." 
The union's next steps 
Stalnaker said "discussions have already begun" to issue a request to improve student health insurance and ensure it is accessible. The request is for the next plan year, which begins Aug. 1. 
In a press release, UCW-AL stressed the importance of health benefits. 
"UA's marketing slogan is 'where legends are made,' but making legends requires that our campus be a place where people are empowered to be their best so they can become the best," wrote P.D. Edgar, a UCW-AL member and student pursuing master's degrees in journalism and creative writing. 
Edgar said the union will not back down in its work. 
"We're going to continue canvassing the petition around UA, not giving up on our efforts to support one another, building out resources for union members, communicating clearly what resources are available to grad/PhD students and adjuncts," Edgar wrote. 
Shaw said the UCW-AL hopes to sit in on more board meetings in the future. 
"While we were welcomed it was also clear our presence was a little unsettling to the board and definitely noticed," Shaw wrote in a statement. 
Jacob Ritondo contributed to this story.