Conflict brewing over mine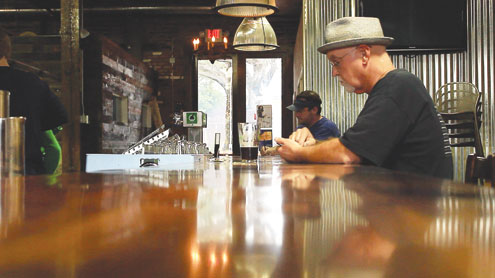 A proposed coal mine on University of Alabama property could threaten more than just drinking water, two Birmingham breweries wrote in letters sent to University President Robert Witt late last month.
The owners of Avondale Brewing Company and Good People Brewing Company have joined with Black Warrior Riverkeeper, a nonprofit organization opposing the mine, out of concerns that it could discharge harmful materials that would damage water quality and lead to an increase in filtration fees.
"When you mess with the water, you mess with our beer," Avondale co-founder Coby Lake said. "You mess with our product. It's going to cost us more money to make the product. It's going to affect the taste…of the beers that we brew. So I think overall, [it will] affect not only us but hundreds of thousands of individuals, because their bills are going to go up, and the quality of the water will go down."
A permit for the proposed mine was issued to Shepherd Bend LLC, a company owned by the Drummond family, by the Alabama Surface Mining Commission in 2010.  It would be located on part of 1,300 acres UA owns in Walker County and would discharge wastewater 800 feet away from a Birmingham Water Works Board intake facility that supplies water for 200,000 Birmingham-area residents.
The brewers are asking Witt to prevent the company from mining on UA property, saying such a decision could prevent Shepherd Bend from mining any part of the area.
"I understand that without participation of the UA System, it may not be cost-effective for the mining company, Shepherd Bend LLC, to mine at Shepherd Bend at all," wrote Good People's Jason Malone. "Please do not sell or lease UA's land or mineral rights at Shepherd Bend for mining. Our drinking water depends on this decision. The same may be said for our business."
But Malone said if the water were treated correctly, it may not pose a significant threat to Good People.
"I guess it depends on how it's handled," he said. "You know, if the proper treatment of that water and the proper disposal of that water is handled correctly, then obviously, it might have minimal impact, if any. But if…pollution is to [occur] because of the mine, and that water's not properly filtered or treated at the facility, then it could have some lasting effects."
Malone also said that any increase in fees needed to pay for more expensive water treatment options would impact the economy.
Despite working against the mine, Lake, a UA graduate, offered praise for the University.
"We love the University of Alabama," Lake said. "We love Dr. Witt. We love everything about Alabama – we just want him to make the right decision."
In response to the letters, the University said there are no plans to allow the land to be used for the strip mine.
"The University has not been approached about leasing the land and has no current plans to lease or sell the land," UA spokeswoman Cathy Andreen said.