Professor's filmmaking extends beyond the class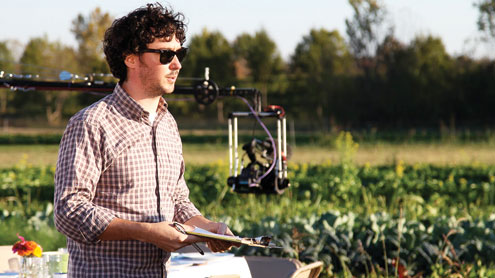 Professor Andrew Grace's schedule does not consist of the typical class lectures and test grading. Rather, he spends his time instructing and overseeing students in the University of Alabama's Documenting Justice Program as well as enjoying his own life as a documentary filmmaker.
Grace's fascination with filmmaking resulted from his evolving interests of photography, music and writing as a teenager. He focused mainly on classic films during high school and continued his film studies through undergraduate and graduate education in Wyoming. He lives in Tuscaloosa and teaches Documenting Justice in the telecommunication and film department at the University.
"A big problem here at the University is that students rarely get out of their cliques and groups to experience world views different from their own," Grace said. "Documenting Justice makes them citizens by allowing them to experience something different."
Documenting Justice, a Center for Ethics and Social Responsibility initiative, is an interdisciplinary two-semester course for non-film majors that focuses on varying topics of social injustice. Alabama Documenting Justice concentrates on issues of social injustice in the state, whereas International Documenting Justice is designed for students studying abroad to research social injustice in different areas of the world.
"Teaching this course helps remind me of how wonderful filmmaking really is," said Grace. "I enjoy seeing the students have that transformational moment where they suddenly become passionate about their story. They want to live and breathe it because it means so much to them."
Grace's love for filmmaking does not stop at campus involvement, but resonates in his life at home. In 2008, Grace and his wife started contemplating why Americans and Alabamians had become so disconnected from the land and local farming. Grace said that these thoughts led he and his wife on their quest to live a simpler life of eating only foods raised in Alabama for one year, and documenting it along the way.
"My grandfather was a farmer, and my wife's family from India were farmers," Grace said. "We wanted to know where our food came from."
Although the process became more complicated and difficult due to lack of farmers, year-round farmers' markets and inadequate edible wheat, Grace was able to continue his documentary, titled "Eating Alabama."
"It was a ludicrous proposition, but it wasn't impossible to do," Grace said. "We started a small backyard garden project and eventually turned our entire front yard into a garden as well."
Grace is currently finishing up this three-year film endeavor and has been funded by the Independent Television Service for the documentary.
"His choice to take on and document the experience of eating only Alabama farmed food shows his dedication as a filmmaker to the Alabama community as well as the UA community," said Mary Kathryn Patterson, an employee at the Center for Public Television at the University. "I think this documentary will shed light on the possibilities of consuming local products."
Grace likes being driven by non-monetary interests, and his job allows him to be involved with students and continue his love of film.
"I have a naïve hope that people will learn to talk to each other more. When I was in college, I was discovering my role in the world. That's when I got interested in being active in my community and gaining my sense of values to want to work and live there."
Pull Quote: "A big problem here at the University is that students rarely get out of their cliques and groups to experience world views different from their own. Documenting Justice makes them citizens by allowing them to experience something different."
-Andrew Grace, professor in the telecommunication and film department