Bama football team wins Disney Spirit Award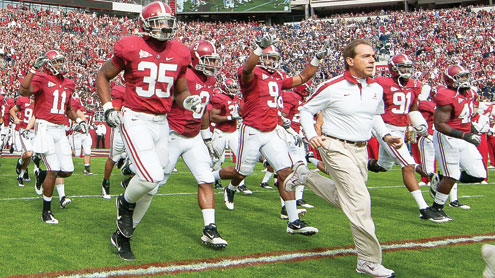 Before travelling to New Orleans to compete in the BCS National Championship, Nick Saban and the football team will be going to Orlando, Fla., where they will receive the 2011 Disney Spirit Award.
The Spirit Award, given by Disney Sports to an inspiring player or team annually, will be accepted by Trent Richardson, Dont'a Hightower, Barrett Jones, Mark Barron, Carson Tinker and Coach Saban.
The players and coach will accept the award on behalf of the entire University of Alabama football team during The Home Depot College Football Awards on Dec. 8 at 7 p.m.
According to a Disney Sports press release, the team was chosen because of its efforts to aid and rebuild the community after the events of last April. Past recipients include Tim Tebow, Tulane University and Mark Herzlich.
            "The compassion and generosity that these young men displayed were instrumental in the rebuilding efforts of a community in dire need of physical as well as emotional help, and Disney Sports is proud to honor them for their contributions," said Disney Sports executive Faron Kelley. "The Crimson Tide and the University of Alabama have shown that sports can have a healing power far beyond the field or court."
This will be only the fourth team recognition since the Spirit Awards' inception in 1996.
"It was a team effort," said long snapper Carson Tinker, who lost his girlfriend, Ashley Harrison, in the tornado. "That's not anything that anyone would argue with. I'm really proud of how our team pulled together to help."
And it was a team effort—linebacker Courtney Upshaw worked to raise thousands of dollars in relief funds in his hometown; former player Preston Dial filled a truck with supplies to bring to Tuscaloosa from Mobile; Barrett Jones helped clean debris and repair homes around town.
"I think that it really speaks well for the University of Alabama," Saban said in the Disney press release. "I really think it speaks well for a lot of people in the organization who made a significant contribution to trying to help a community that was effected by probably as devastating of a circumstance as I've ever had to deal with in my life."
For Tinker, the Spirit Award is much needed recognition for the entire team.
"I'm not the only one that's gone through something. There's a lot of people that went through the same thing," he said. "I don't like how the spotlight has been on me in particular. We're trying to take this opportunity to be a blessing to someone else."
Saban said he is proud to receive the award, and he believes other people should be as well.
"I'm proud of the example we try to set in helping in our community," he said. "And I'm talking about the University as a whole and the football program as a whole."