Fashion Column: Lagerfeld leaves behind a tumultuous legacy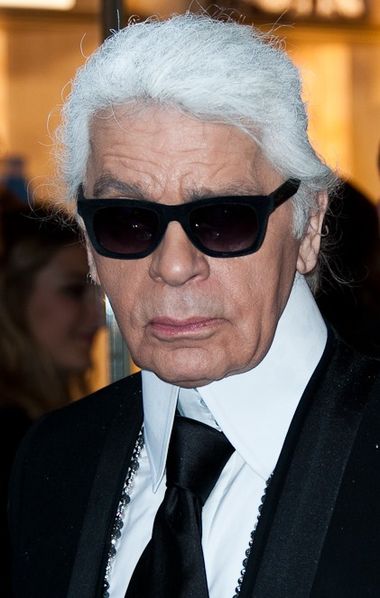 For 85 years, Karl Lagerfeld lived his life in fingerless gloves and high, starched collars. He ended his life giving a fortune to a pet cat. Somehow, these are not the most controversial elements of his legacy.
Lagerfeld, for all his fashion acumen and high-class swagger, did not leave this earth with an untarnished reputation. The former creative director for Fendi and Chanel was not only guilty of making his living in couture, a notoriously wealth-exclusive industry, but he was also accused of a litany of social injustices, among them homophobia, fat shaming, racism and misogyny.
In fact, when Lagerfeld died, the tweets began to pour in. A search for his name and any one of those prejudices will turn up a slew of articles, new and old, and any number of tweets and other public social media posts.
It would be difficult to deny that Lagerfeld was guilty of such bigotry. Where homophobia is concerned, Lagerfeld was in staunch opposition to gay marriage, which both he and interviewer Bruce LaBruce deemed too "normalizing" in Vice's 2010 fashion issue.
When Lagerfeld was a guest editor at Metro Paris, he was frank in his assessment of singer Adele, whose singing Lagerfeld admired, and whose figure he felt was "a little too fat."
As for racism, Lagerfeld enlisted a barely-diverse troupe of models for many a Chanel catwalk, which drew the ire of those who noticed the absence of black models in his shows. Lagerfeld also helmed an autumn/winter 2013 Chanel show that included Native American headdresses as accessories. The fashion giant brushed it off with an apologetic statement and the claim that the headdresses were part of the exhibition's Texas theme.
If all this were not enough, there are also plenty of misogynistic comments from Lagerfeld throughout the years, with Lagerfeld proclaiming his distaste for the #MeToo movement in an interview with Numéro. In the very same interview, Lagerfeld also defended Karl Templer, the former creative director of Interview Magazine and accused sexual predator. In his defense of Templer, Lagerfeld said: "If you don't want your pants pulled about, don't become a model! Join a nunnery, there'll always be a place for you in the convent."
Yikes.
Notably, and perhaps sadly, Lagerfeld's own prejudices sometimes came right back down on himself. Lagerfeld lost nearly 100 pounds in the early 2000s in order to fit into couture from the Dior Homme line, which he noted was modeled by men younger and slimmer than he. It is not as if Lagerfeld had any positive self-image reinforcement as a child. His mother once told him that "children with glasses are the ugliest thing in the world," an opinion that resulted in Lagerfeld going without treatment for his short-sightedness.
When it comes back to homophobia, it would irresponsible to ignore the fact that Lagerfeld himself was gay, though he sometimes skirted the subject of his sex life. During his interview as the guest editor of Metro, Lagerfeld was asked about his sex drive, to which he responded: "No, I'm not very much interested in that."
In the aforementioned interview with LaBruce, Lagerfeld mentions that his best friend died from AIDS 20 years earlier.
This aside seemingly refers to Jacques de Bascher, a Parisian fashion icon who died in 1989 from AIDS complications. De Bascher, whom Lagerfeld "infinitely loved," is often referred to as a central figure in the rivalry between Yves Saint Laurent and Lagerfeld in the 1970s. Lagerfeld took care of de Bascher in his final days, even requesting that his hospital add a second bed to the room so that Lagerfeld could stay with de Bascher at night.
Though Lagerfeld and de Bascher were never sexually involved, their romance was one of the great moments in Lagerfeld's life, as he admitted in a 2017 interview with Marie Ottavi, who wrote a biography of de Bascher. Lagerfeld was also known to help organize the amfAR Gala at the Cannes Film Festival, which is an initiative of The Foundation for AIDS Research.
When Lagerfeld denounced gay marriage, it was, in his own words, because "in the [1960s] they all said we had the right to the difference. And now, suddenly, they want a bourgeois life."
Lagerfeld never learned to live outside of "the difference." His persona was based in discord. Sometimes that discord resulted in beautiful clothes, the kinds of designs that kept Chanel relevant for decades in part because Coco Chanel would've hated them. And though sometimes Lagerfeld's interviews would result in humorous aphorisms fit for an Instagram autobiography, they more often resulted in heinous opinions made public. Lagerfeld lived to controversialize himself and his brands. Many years ago, before #MeToo, before Donald Trump and before the legalization of gay marriage, Lagerfeld's death might have been heralded as the death of a provocateur, the sardonic sage of a generation.
Instead, Lagerfeld leaves behind a legacy riddled with miscalculations and pretty sketches. Lagerfeld was always an admirable designer. His status as an admirable person remains unclear.