10 Year Column: 'The L Word' is back, and there's gonna be trouble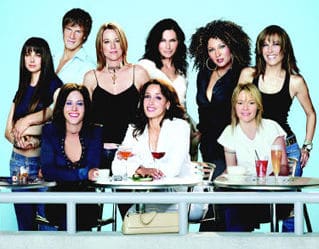 In March of 2009, one of television's most hated characters was murdered, and with her death came the grand finale of Showtime's ensemble drama "The L Word."
For six seasons, "The L Word" boasted an impressive cast of six actresses, five of whom were very talented, as well as a revolving door of main and recurring characters including the likes of Marlee Matlin and Holland Taylor.
Mia Kirshner starred as aforementioned murder victim Jenny Schecter, a character that showrunner Ilene Chaiken based on herself. Schecter serves as both the entrance and exit to the series–we meet the cast of characters, a tight-knit group of queer women in Los Angeles, when Jenny comes to join her longtime boyfriend in California, and we leave the series wondering which one of them could have killed her.
While Jenny is alive, her ludicrous plot lines drive the story forward: she cheats on her boyfriend; she leaves her boyfriend; she dates a slew of women who deserve better; she writes terrible short stories; she becomes famous; and of course, she gets all-about-eved.
Outside of Jenny's drama, the show focuses on a multitude of personal traumas for the other characters, including sex, addiction, parenthood, sex, estrangement, death, sex, infidelity, homophobia and even sex.
But it wasn't the sudsy, soap-operatic storytelling that defined "The L Word;" it was the undeniably imperfect representation. "The L Word" came on the heels of another Showtime program, "Queer as Folk," the first ever television drama to center LGBTQ characters. "The L Word" placed an unprecedented spotlight on queer women seven years after the coming out episode of "Ellen."
But Chaiken's attempt to promote diversity falls flat when it comes to bisexual and transgender characters. Two of the primary characters, Alice and Tina, identify as bisexual, an orientation that most of the other characters treat with utter derision and complete misunderstanding. Both characters are seen dating both men and women on the show, and both of them are treated as neither straight nor queer, stuck in a binary that the other characters constantly point out until one of them gives up.
In the first season, Alice is particularly defensive of her bisexuality, but that attitude slowly fades, especially when she enters into a long relationship with Tasha, a lesbian whose identity is stifled by her position in the National Guard during the military's "don't ask, don't tell" era. When Tasha faces trial for "homosexual behavior," Alice identifies herself as a lesbian on the stand. Another bisexual woman bites the dust.
Then there's the unfairly maligned Max Sweeney, whom the audience first meets as Moira. Before Max transitions, he is already othered by the primary characters, who are uncomfortable with his masculine-presenting gender identity. When Max formally confirms his identity as a man, his ostracization only intensifies. Daniela Sea, for her part, portrays Max with such sympathy and emotion that it is impossible to side with the characters we know best.
"The L Word" always struggled with accurate representation, and even if time heals all wounds inflicted by the sharp claws of a cable drama, Chaiken had better watch out. "The L Word" is slated to return to Showtime sometime in 2019, according to Deadline, and its target audience has gotten a little more discerning over the past 10 years. Viewers looking for queer representation demand more than a single despised transgender character and a set of somewhat diverse lesbians who may or may not believe that bisexuality is valid.