Artist combines modern and classical art techniques for "Apocrypha" exhibit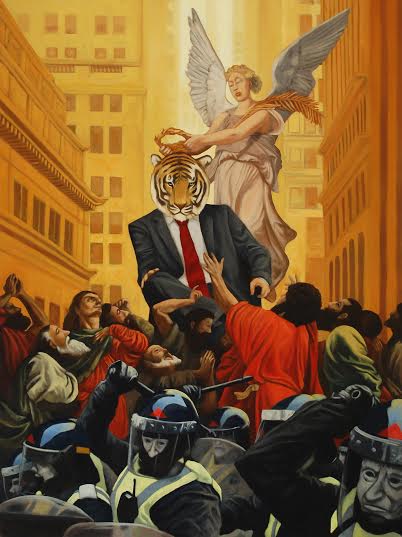 Protestors and police fight as a man with the head of a tiger is crowned king by an angel. A jilted manikin bride stands alone at an empty outdoor wedding. A lupine scientist is flanked by skeletons and cheering crowds.
These are just some of the provocative, compelling images featured in Tom Wegrzynowski's new exhibit "Apocrypha," which opens this Friday at the Dinah Washington Gallery. "Apocrypha" is a collection of oil paintings that combine traditional artistic methods with modern themes and subject matter.
"I don't know that I ever want the paintings to be overt in terms of being about one specific episode or event or person, but I definitely think about trends and themes and contemporary culture," Wegrzynowski said.
The artist's work draws inspiration from the way internet culture often causes dissonant ideas and images to be combined. Wegrzynowski said that each painting is built around a theme and features figures that are both mythological and modern.
Byrce Speed, an assistant professor of Art at the University of Alabama, said that Wegrzynowski's work is inspired by contemporary society.
"The last few paintings I have seen seem to be informative snapshots of the state of affairs we find ourselves in," he said. "They are commentary on the America we live in, but they also have an aloofness to them that I find appealing."
Wegrzynowski uses a unique process to create his paintings. First, the artist creates a collage of photographs and images using Adobe Photoshop. He edits this visual guide many times until he is happy with the result, and then recreates the digital work on a canvas.
"I think there's something really fascinating about translating [a collage of photographs] to an oil painting, because the painting becomes an object, it becomes a very singular thing," Wegrzynowski said.
"Apocrypha" features works that are the combination of modern and traditional art techniques. The artist said he believes that as time goes on, people will blend old and new technology rather than eschew classical methods.
"I think different people do different things that suit their creative visions, whatever that creative vision is. I think that's what's so cool about the way art works now is that there's just this wide open universe of stuff you can do," he said.
Wegrzynowski has been interested in art his entire life, and decided to pursue it as a career during his undergraduate study at the University of South Carolina. From there he joined an art collective in Atlanta before eventually attending graduate school at the University. 
The artist described his biggest influences as coming from expressionism and symbolism. Both of those styles are concerned with conveying an inner reality through a work.
Sharon Rudowski, the education director of the Arts Council, said she believes that the appeal in Wegrzynowski's work comes from its use of historical imagery in a current context.
"Our familiarity with past and current events and our individual histories will dictate what we take from each painting short of asking the artist what he was saying," she said.